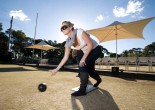 Sydney's a beautiful place to live and a glorious city to visit. We've picked out 10 things to do in Sydney at least once.
From the charms of Chile to glorious Granada, our experts select the 5 best destinations to visit in the coming months.
An hour's boat ride from La Paz takes you past spectacular sheer red cliffs and delivers you to Baja Camp, located on a secluded beach on Isla Espíritu Santo.
Surrounded on all sides by crystal-clear seas, Baja California Sur is a mecca for enthusiasts of all watersports.