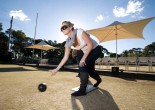 Sydney's a beautiful place to live and a glorious city to visit. We've picked out 10 things to do in Sydney at least once.
Oct, 02
From the charms of Chile to glorious Granada, our experts select the 5 best destinations to visit in the coming months.
Oct, 02
An hour's boat ride from La Paz takes you past spectacular sheer red cliffs and delivers you to Baja Camp, located on a secluded beach on Isla Espíritu Santo.
Sep, 12
Surrounded on all sides by crystal-clear seas, Baja California Sur is a mecca for enthusiasts of all watersports.
Sep, 12
Boats are often overlooked as a way to see the world. In a lot of cases, though, boats are the best, and frequently the only way, to properly see a destination. Here are five of the best boat journeys the world has to offer.
Aug, 16
Ladies watch trends in 2017 are all about minimalist designs, sporty elegance, smart capabilities, leather straps, luxurious gold tones, timeless whites and blue shades.
Aug, 16
Ecuador is a wildly diverse country, and thanks to its compact size, a lot can be seen and experienced in a very short period.
Aug, 16