In late 2019, Marriott International will debut the Ritz-Carlton Yacht Collection, three lavish cruising yachts for voyages from seven to 10 days.
Having never been to Portland, this hotel was a perfect introduction to the city. Rather than "Keeping Portland Weird," the contemporary stay is a chic addition to the hotel scene.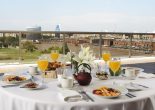 If you're headed to Buenos Aires soon, here are four secret dining and drinking experiences you won't want to miss.
Paphos is a seaside town on the south-west coast of Cyprus. It's a popular destination all year round and especially in the summer.