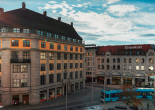 This iconic building, built in 1915, was once the home of the Norwegian-American Line, a company that owned ships carrying mail and cargo.
Nevis might not be the most well-known Caribbean island, but perhaps that's precisely what makes this tranquil slice of paradise that much more special.
Travel smarter and safer in 2019 with the best brilliant travel accessories. Everything from the best adapters, earplugs, space-savers, safety to tech gadgets.
Japan is a popular destination for its historical sites and rich cultural heritage, but also as a culinary destination in its own right.