Elite Club Ltd invites you to Malta. This amazing Mediterranean island is full of surprises. Enjoy authentic cuisine, breathtaking beaches, ancient history and architecture. We always show you the best of the best!
May, 13
Malta is a fantastic sun and sea destination. If this is what you need, you will love it! You can feel the special spirit of the place walking through the labyrinth of medieval streets.
Mar, 16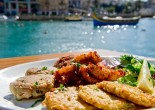 Maltese cuisine is a reflection of the history of Malta that developed under the influence of Sicily and England. However, other cultures also left their marks: French, Spanish, Maghreb, Provencal etc.
Mar, 16