There are many amazing places in Oregon. You can go to the Crater Lake – the deepest lake (9.7 km) of the USA that is located in Oregon. The water is clear, ice-cold and clean in it – its blue color looks surreal.
Jul, 08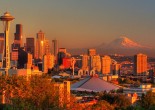 Let's explore West Coast of the US this spring! From San Diego to Seattle there are so many breathtaking places.
May, 04
It is enlightening experience to taste wine right at the place where it was made. There are about 400 wineries in Napa Valley. The list includes wineries that are definitely worth visiting.
May, 04
San Francisco is associated with Golden Gate Bridge but this is not a lonely landmark in this area. This cultural and commercial center is densely populated and all interesting things are packed tightly there.
May, 04
You can have an epic adventure as you make a tour around West Coast of USA. Here are some highlights that can make it amazing. Choose the destination points you like best.
May, 04