Amangiri – luxurious SPA resort in Utah desert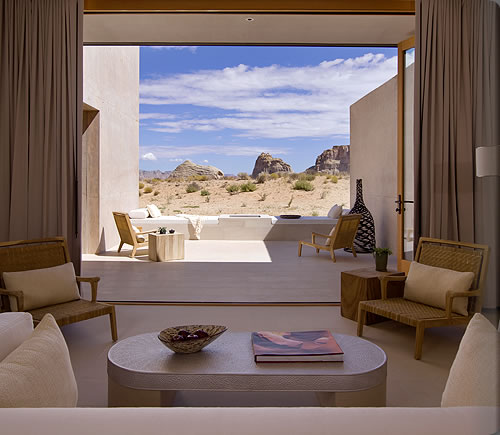 New stunning resort Amangiri is located in Canyon Point, Southern Utah, close to the border with Arizona. The resort is tucked into a protected valley with sweeping views towards the Grand Staircase – Escalante National Monument.
The Colorado Plateau is a broad, high tableland that sprawls around the Four Corners, the Euclidean point where Arizona, Utah, Colorado, and New Mexico touch right angles. It's a land of spectacular eroded rock formations, pages of the geological past stretching back 180 million years.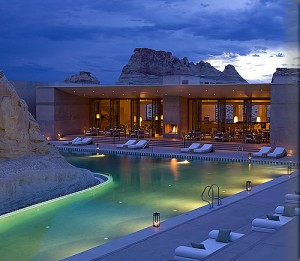 Built around a central swimming pool with spectacular views, the resort blends into its dramatic surrounds where deep canyons and towering plateaus create a raw landscape of immense power. Amangiri's Aman Spa features a floatation therapy pavilion, water pavilion with sauna, steam room, and cold plunge and step pool.
Located in a spectacular desert setting, The Mesa at Amangiri will comprise 36 private homes with access to the services and amenities of Amangiri. Surrounded by 600 acres of undeveloped land, the three- and four-bedroom Mesa homes will be hidden from Amangiri by a rock escarpment. Designed by Selldorf Architects, the homes will offer indoor/outdoor living with expansive private pools and terraces. The guest rooms are marvels of monotone—concrete walls, blonde wood, raffia, white leather, with a touch of color: sage tiles in the spacious bath and double shower.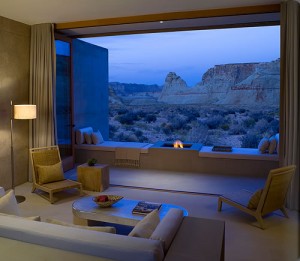 There are many amenities you can do at this luxuriouse resort. Try hyking a coyote trail for example! The Coyote Trailhead is a short, ten-minute walk from the resort. It offers quick access to an area of Entrada Sandstone, also known as slickrock. Resembling petrified sand dunes, the 170-million-year-old rock strata offers quiet alcoves, cactus gardens and great sunset views towards Grand Staircase-Escalante National Monument. A metal staircase provides an easy route to the hiking area. Hikes are approximately 1.2 kilometres (3/4 mile) in length.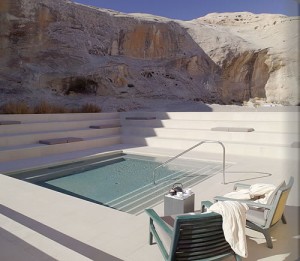 Another great adventure is a private Colorado river tour, fly fishing or visiting Lake Powell. From twisting slot canyons to hanging gardens, from lofty peaks to mesas, Lake Powell provides access to some of the most amazing scenery and geological formations on the Colorado Plateau. Named in honour of Civil War veteran and one-armed explorer John Wesley Powell, who led the first successful scientific expedition down the Colorado River through the Grand Canyon, this lake provides unlimited hours of entertainment. Enjoy the turquoise waters aboard a highspeed motorboat touring the lake's 3,219 kilometres (2,000 miles) of shoreline, or simply enjoy some quiet beach time in one of the many hidden away bays. For those who enjoy lake fishing, Lake Powell is an ideal location for catching small mouth, large mouth and striped bass.
This truly exceptional place, where everyone can find something to do: sports, relax at the spa, enjoy the breath taking nature**.
**Elite Club Ltd. used material from Amangiri website and www.forbes.com