Best of the best in Milan
Where should you stay when you come to Milan? One of the best solutions for Milan that is considered to be a center of fashion is Armani Hotel. Giorgio Armani personally worked over its design. The philosophy and style of this talented designer penetrates everything in the hotel, that has 95 rooms. Floor-to-ceiling huge windows add grandeur to the building and provide excellent panoramic view for guest of the city. The atmosphere of elegance will give memorable experience as you spend time in Milan.
If you need alternative, regard Grand Hotel et de Milan – a luxury hotel that opened in 1863. Richness of atmosphere and charm of ancient Milanese house makes the place stand out from the rest. Many famous people who come to Milan prefer to stay at this place. They like its retro aristocratic chic. This is very convenient also as it located at the heart of the city.

If you do not want to stay in huge hotels you can try The Gray in Milan – a small cozy hotel that includes 21 rooms. Each of them has a unique exceptional design. This is a great place for lovers of eclectic style and minimalist trends. The design is refined and natural at the same time. This is an excellent hotel for rest after busy day in the city. Get pleasure from dishes in Le Noir restaurant with half-lit pleasant atmosphere. The colors are pleasant and the forms are strictly geometrical. The eye will not be irritated by flashes of bright colors and unexpected curves.
The cuisine is a special treat in Milan. The Italian cuisine is one of the finest cuisines in the world so you can enjoy exceptional restaurants in the city. Try unusual food combinations at Clandestine Milano. It is time to get acquainted with playful Italian cuisine. The dishes are presented with a sense of humor. Have you ever tried Italian sushi? You will be surprised to see the Japanese dish prepared in Italian manner. This is the place where Italian ingredients are used instead of Japanese products.

The family restaurant Il Luogo di Aimo e Nadia is very popular in Milan. It has been working for about 5 decades already and has many regulars. The restaurant was awarded with two Michelin stars. The menu is based upon the simple and delicious Tuscan cuisine. You will notice the combination of professionalism and poetry in this traditional Italian restaurant decorated with a modern twist. You can satisfy all your senses here. Try superb marinated duck, fusilli with warty clams and mussels or fennel moretto. Each dish is prepared with love here. You will definitely this is unusual and extraordinary place.

Go to Giacomo to try delicious seafood. The restaurant is located in business center and is convenient for business meetings. You can easily meet celebrities here such as Orlando Bloom, Armani or some other famous persons. As for the dishes, linguine with scampi and zucchini flowers is fantastic in it!
For Italian Nouveau cuisine you should go to Cracco. The restaurant has 2 Michelin stars. The cooks eagerly experiment here with simple Italian dishes and these experiments are successful!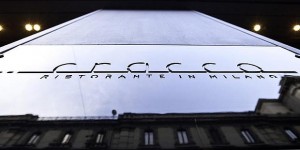 Milan is called a fashion capital of the world along with Paris, London and New York. You can't visit Milan and skip shopping. This is a haute couture city with fashions jumping from catwalks to streets without delay! You will love the atmosphere even if you just walk about it. If you want to shop for famous brands you can visit boutiques that are located at a square Quadrilatero d'Oro. If you do not like big names there are many other places where you can shop. Fashion works like magnet and draws people to Milan. Though the city is a great cultural center that influences many spheres of life, fashion remains its biggest sources of income. You will hardly find so many shops and outlets somewhere else. The fashion weeks are arranged twice a year but actually fashion determines the style of life in Milan all the year round.