Exclusive Dining in Dubai
Dubai is a large quickly growing city with a wide array of venues where you can relax. What contributes to it? First of all, this is a large emerging business hub with international population. People living in Dubai have high income and their disposable means attract capital. There is a big demand for luxury venues in Dubai and the market responds to it.
Luxury dining in Dubai can impress any person. There are Arabic, Indian, Cuban, French and other restaurants with live music and belly dancers. Restaurants are thriving here and it is not easy to choose the best restaurant.
Many great chefs have come to Dubai as the interest to restaurants is growing. Celebrity chefs such as Jamie Oliver or Pierre Gagnaire show their talents in Dubai. Many famous restaurant brands opened their outlets in Dubai: the Ivy, Rivington Grill, Hakkasan, La Petite Maison, Nobu, Gaucho, Zuma. Savor Arabian flavor in Al Iwan restaurant, enjoy the remarkable setting of vast aquarium in the Al Mahara, or relax in a poolside restaurant Bab Al Yam. The price tag differs from $125 to $200 per person. All these restaurants are located in the Burj Al-Arab.
Luxury hotels in Dubai strike the imagination. The Seven Star Hotel or the Burj Al-Arab, for instance, is the most luxurious hotel of the world. This building with a sail-shaped silhouette became iconic for Dubai. Alternatively you can stay at contemporary Fairmont Dubai, Kempinski Hotel with an indoor snow park, One&Only Royal Mirage, or Park Hyatt.
If you wish to dine out in some other restaurant of the city, you can go to Japanese Zuma ($150 p/p), a French popular restaurant La Petite Maison ($130 p/p). You can enjoy British classics in Rhodes Mezzanine ($110 p/p), where famous British chef Gary Rhodes shows his talent, savor seafood dishes in Pierchic (US$150 p/p) with its romantic atmosphere and ocean magnificent view, spoil your darling in beach-based restaurant Majlis Al Bahar ($300 p/p) or try exciting, creative dishes of Table 9 ($125 p/p), which look like a real artwork!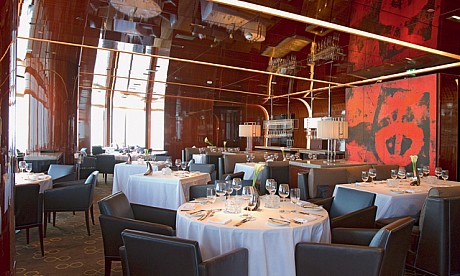 It is considered that the most expensive restaurant in Dubai is At.mosphere. At.mosphere is situated in the highest building of the world Burj Khalifa. It is just two levels below the famous observation deck At the Top where people enjoy the spectacular view of the city. You can do the same from At.mosphere that is located on the 22nd floor. Lovers of posh and luxury ambience will love the place. The dishes are rather expensive – the price tag for one dish can be around $160.
If you want to get unique experience, you can have dinner at Dubai floating elegant restaurant Bateaux Dubai. Cruise along the Dubai creek, enjoy exquisite dishes and look at the beautiful sights of Dubai. In average, people pay about $170 for dinner p/p.
Dubai is the city that never sleeps. Night venues open their doors for dance lovers. The most famous night clubs include extravagant Winner that received Best Club award, unique circular venue 360° with an open air bar, Rock Bottom Café and many others.