Exciting shopping in Japan
 
Shopping in Japan is not just the way to buy things but much fun thanks to the influence of national culture on shops and marketing. Shopping in Japan, you explore the culture of the country. Many tourists are delighted with the experience of shopping in the area around Akihabara station, which is also called Denkigai and Electric Town. It is of great interest because it plays a big role in Japanese otaku culture. This subculture is widely spread in Japan and refers mainly to people who belong to anime and manga fan community. The content industry of anime and manga has been actively developing since 1970-s. Now it has millions of fans all over the world.
You can feel the popularity of otaku culture as you walk in the Electric town, where you can see cosplay bars and maid cafes. The waitresses in these venues dress like maids and treat customers as if they are masters and mistresses. Otaku fashion produces big impression upon the guests of Tokyo. If you love this place, you should also go to Harajuku, a district in Tokyo, which is known internationally as a center of youth fashion and culture. The boutiques and cafes are youth-oriented there. Takeshita-dori is a famous fashion street. There you can buy clothes, souvenirs and try famous Harajuku crepes.
Gyaru is another subculture for fashion-minded girls. People in the gyaro subculture love to shop at 109, which is nicknamed Marukyu. This is a shopping mall, where you can find the hottest brands and trends. It is a fashion hotspot for young Japanese women. Gyaru means girl. There was such brand of jeans in the 1970-s, which was advertised with a slogan: "I can't live without men". The advertisement was targeted at girls in their teens and early twenties. This is how Gyaru fashion originated. In the 1990s and early 2000s its popularity reached its peak. The girls in the gyaro subculture have heavily bleached or died hair, dramatic makeup and highly decorated nails. Everything they need to look great can be found in Shibuya109. The fashion items are reasonably priced and attracts many foreign visitors. There is a male version of such mall beside.
The biggest shop in Tokyo is the Kinshicho Daiso, which is a popular 100 yen shop. You can find almost everything there, from dinnerware to cosmetics, from food products to fashion clothing. You can come to this shop on the way to Tokyo Skytree, a broadcasting tower and a shopping facility called Soramachi, which includes many fashionable stores and restaurants.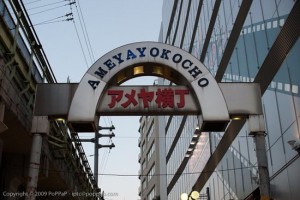 A big selection of goods can be found in Ameyoko, where you can conclude the best deals. It was created on the place of the black markets that appeared in the Ueno area after the WWII. It turned into a leading downtown area where a lot of candy shops were located. For this reason, it received the name "Ameya Yokocho" translated as the alley of candy shops. Now its short version is used – Ameyoko.
Nakamise is a temple city that date back to Edo period. It has a street, where lots of souvenir shops can be found. It is 250 meters long. The street is decorated with Japanese ornaments. Tourists like to buy ningyo-yaki there. Ningyo-yaki is translated as "fried dolls", which explains the meaning of this snack. These are molded Japanese cakes. You can find any intricate molds among them: it can be Hello Kitty, for instance, or just a Japanese traditional lantern. Another tasty snack you can buy there is age-manju, which is a small round steamed cake with a sweet filling deep-fried in a tempura batter.
Many foreign visitors come to buy high-quality Japanese cosmetics. You should go to @Cosme store to acquire it.
Ginza Hakuhinkan is a famous Tokyo's toy store, which offers great selection of toys.
If you do not have enough time for shopping you can just use souvenir vending machines.