Why go to Biarritz

If you look for the place with the most wonderful beach, where you could take remarkable coastal walks – this is certainly Biarritz. It is located in the in southwestern France, 18 km from Spain. It is considered that there is therapeutic water in Biarritz.
There is a unique atmosphere at this place. Many wealthy people own houses in Biarritz and come here in summer. The wife of Napoleon III Empress Eugenia de Montijo adored this place and even built a residence Hôtel du Palais close to the sea. Take time to have a look at this marvelous building of the 19th century. Hôtel du Palais became the symbol of Biarritz with time. Now it is exclusive luxury hotel.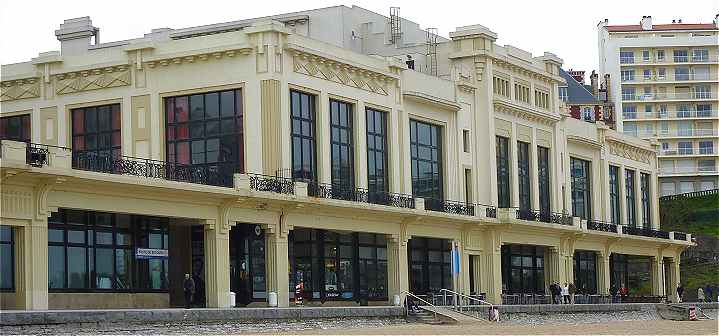 The other symbol of Biarritz is Casino Municipal built in art deco style. There is a theatre in this building at present.
The beaches stretch 6 kilometers. There are also picturesque cliffs there. Biarritz was a whaling town in the past with all activities concentrated in the old port, and now this is a fashionable spa, surfing mecca and a perfect tourist destination for holidays.
There are a lot of great beaches on Biarritz such as Miramar, Grande Plage, Port Vieux (old port), Plage de la Côte des Basques, framed by cliffs, Marbella, popular among the surfers and etc.
The tourists can visit Rock of the Virgin connected to the mainland with Eiffel Bridge. The guide will tell you an interesting legend about this place. There is a good observation point there. You can have a look at Biarritz from that point and even see the Spanish Basque Country in case the weather is clear.
Musée de la Mer Aquarium is located not far from the Rock of the Virgin. It has been working since 1933. You can learn much about the ocean flora and fauna in it and even feed the seals.
Other good observation point can be found in the lighthouse, which is 74 meters high. Constructed in 1834, it is open to the public at present. Any person can climb the top and look around. It is advised to do it at sunset – the view is incredible!
Old Port & Rue du Port-Vieux is an excellent walking, shopping area and eating area. There are many bars and restaurants on it. The market "Halles de Biarritz" sells local produce and has many dining venues and shops around.
Guests of the city are invited to have a look at the private chapel of Napoleon III and his wife and the Orthodox Church with beautiful blue dome built in byzantine style as Russian nobility spent much time in Biarritz in the 19th century.
La Maison Blanche is one of the best restaurants of Biarritz. It is located not far from the beach. Atelier is a restaurant with high-end cuisine you will definitely love. Villa Eugénie is a restaurant located in the hotel Hôtel du Palais with one Michelin star, and l'Impértinent with Michelin star and a German chef.  There are other interesting variants as well.
The chocolate museum is also worth visiting. You can also acquire chocolate as Bayonne, which is considered a chocolate capital of France. It is several miles away from there. There are many little independent shops in Biarritz that specialize on cheese, confectionary and cake. It is a tradition for Biarritz to make bonbons. The chocolate caramel Kanouga was specially devised for Russian nobility.