What to do on Capri

Capri is a small island that is located 5 kilometers away from Naples. Though the island is not big, many interesting venues are concentrated on it and there is much to see there.
Marina Grande is a departure point for boat tours heading for the Blue Grotto. A wooden boat with a skillful skipper will take you to the sparkling cavern where you get through the cave mouth that is only one meter high and 2 meters wide therefore you will have to lay back along the bottom of the rowboat in complete darkness. But the trip is worth the effort. You will see the crystalline blue water in the cave with silver reflections. This is a real marvel of nature and most famous place on Capri. The bright azure color of water is received thanks to sunlight that gets inside via underwater opening therefore light refracts in a different way bringing to the silvery effect. The cost is about 13 euro.
You can order a tour to watch Faraglioni rock formations rising above water. It is also advised to visit Villa Jovis – a remarkable residence of the Emperor Tiberius and the Gardens of Augustus, a beautiful park that was loved by Caesar Augustus and then his successor Tiberius.
The best panorama of Capri can be enjoyed from the highest point of Monte Solaro: 589 meters above the sea level. The tourists use the chairlift to get there. The panoramic views of the island can be found in the home-museum Villa San Michele built by Swedish physician, Axel Munthe. There you can also see some ancient artifacts – objects that were found around or donated to Munthe. The entrance is around €6. If you are tired of sightseeing, you can have a bite in the best Anacapri restaurants. L'Olivo – chic Italian restaurant with 2 Michelin stars. where classic dishes are served. The dinner varies from €120 to €200.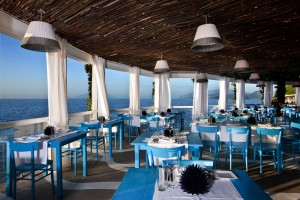 It is also recommended to try excellent cuisine in Ragu Bistro (€55 to €130), Da Paolino Lemon Trees (€40 to €120), simple and sophisticated Il Riccio (€70 to €160) and etc.
If you want less expensive options pizza can be a great choice. If you need a quick bite, you can buy panino caprese with tomatoes, basil and mozzarella named after the island. Torta caprese is a flourless cake with almonds and chocolates.
Visit Piazzetta, most famous square on Capri and have a drink there. The locals and guests come here for evening promenade. This is a center of social life on the island. This is a square packed with cafes. There is ex Cathedral of St Stefano that date back to the 17th century there. No matter what road you take on Capri – you will eventually get to Piazzetta as all roads lead to it.
The nightlife scene offers different options as there are many nightclubs, bars and taverns on Capri. You can go, for instance, to Anema e Core, hidden from sight, or piano bar Lanterna Verde.
Do not miss shopping opportunities as well when you are on Capri. There are a lot of narrow streets near Piazzetta, where such brands as Dolce & Gabbana, Prada, Fendi and Valentino are sold. There are also a lot of artisans' shops producing sandals, Capri pants and even perfumes. There is the Carthusia perfume factory shop on Capri.