Relaxed beach rest in Goa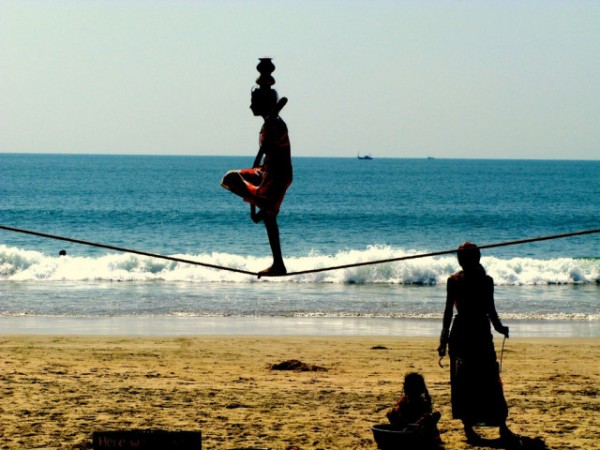 Goa is the smallest state of India known for its pristine beaches and scenic beauty. The local people are very friendly to tourists and this contributes to relaxed, happy atmosphere that reigns there. They belong to different faiths but there is no any division between people who gathered in Goa to enjoy life. Goa used to belong to Portugal in the past and it influenced the architecture and culture of the place.
People come to Goa to have a high class rest on the beach as beaches are fantastic there. Cheerful atmosphere is supported with festivals, carnivals and well-developed entertainment infrastructure. The abundance of nature gifts is amazing in Goa. Pubs, restaurants, clubs lined along the beaches attract tourists with its delicious cocktails. Fresh fish is prepared right on the beach.
The "hippy" culture is cherished in this area. The flea markets are scattered around and weekend bazaars sell handicrafts, arts and clothing. Though beach rest is diverse thanks to multiple activities such as diving, kitesurfing, jet-ski, and etc., there are other ways to spend time.
It is exciting to explore old town areas and forts. Old heritage churches are of interest to tourists. Visit Fontainhas, the Latin Quarter of Panjim that was declared a UNESCO heritage zone. This is a charming place with narrow, winding streets, where old colorful Portuguese houses are located.
You can also go to wildlife sanctuaries, which are open during the whole year. Bhagwan Mahvir and Cotigao are the most famous ones. Bhagwan Mahvir is located in Mollem National Park, where you can see beautiful Dudhsagar Falls.
Everything is affordable in Goa but luxury lovers can find many top class hotels and resorts.
The Leela Hotel Goa presents the combination of the Indian summer palace with villa in Portuguese style. It has 152 rooms, suites and villas. The membership in the exclusive club makes many amenities available for you including spa, golf course, business center, conference room, tennis court and etc. It is located in Salcette, the southern part of Goa, on a quite stretch of beach on Arabian sea.
The Diwa Club is one of the most expensive accommodations in Goa but the experience is worth it. Exceptional rest is guaranteed. Elegantly furnished suites with king-sized beds are at your disposal. There is private terrace and a balcony from which you can enjoy the spectacular nature of Goa. Located in South Goa.
Looking for secluded beach resort, pay attention to the LaLiT Golf and Spa Resort Goa. It offers 255 accommodation options so you can definitely find what suits you best. The LaLiT Golf and Spa Resort Goa is 5 star resort that is located near Raj Baga Beach
There are also Goa Marriott Resort & Spa, Grand Hyatt Goa, known for its international high class quality. There are a lot of other variants to suit the budget of any traveler. These are just some of the amazing hotels with luxury amenities. Additionally, there are a lot of boutique hotels there so the choice is extensive.