Top 5 swimwear designers

Beach is the ideal place for demonstration of beautiful swimwear. Whether you go to Bora Bora or Bahamas, you will definitely be stunning in exclusive swimwear from collections of famous designers.
An Italian fashion house Missoni founded by Rosita Missoni in 1953 creates excellent beachwear that is highly appreciated by its customers. The company is presented in 20 countries. It sells its products all over the world. The colorful knitwear designs of Missoni are recognizable. Try mishmash of prints offered to you this season. There is always a huge selection of animal prints: jaguar pattern, lizard skin with kaleidoscope of colors and incredible experiments with mixed pattern. You can find a huge variety of options for bandeau bikini, string bikini, swimsuits, swim cover-ups etc.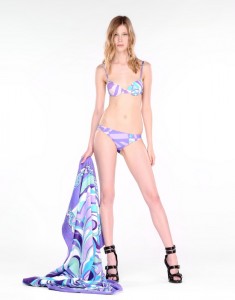 Pucci swimwear presents items with geometrical prints. The brand appeared thanks to Emilio Pucci who started a company in 1947. Now it is famous worldwide. Sleek designs of Pucci became a sensation in post-war country. He was always experimenting with stretch fabrics. The brand was liked by Marilyn Monroe, Sophia Loren, Princess Diana and Jackie Kennedy to name a few. Now many celebrities select the brand. Pucci is known as a Prince of Prints. Swimwear from Pucci can also be recognized.
Many celebrities are in fashion business. Their fame helps them to sell the brand. Multitalented Liz Hurley is not an exception. She succeeded in the design of beach collections. Numerous photos of Liz in her own creations can be found on her site. Check up her website with beautiful design to learn more. You will be impressed with selection.
Gottex is another luxury swimwear brand, which was founded in 1956 by Lea Gottlieb. She sold the wedding ring to buy the equipment and material, but she did not even imagine then that her company would become the company number one in this niche with time.
Lea Gottlieb had expertise in raincoat manufacturing, which she used for creation of pioneering swimsuit company. She was inspired by colors of the Middle East to create her swimsuits. She also paid tribute to colorful flowers that saved her life during German occupation. She used bouquets of flowers not to be recognized as a Jew when she passed through checkpoints. Her other influences include opera and ballet, Impressionist artists, Monet and Renoir.
Now the company is associated with luxury. Even members of the royal families love the brand. The models suit not only women with stunning figure. Customers who need lifting and compressing are very grateful to Gottex. Gottex was the first company that used spandex in work. Gottex is a best-seller at Saks Fifth Avenue stores.
Charo Ruiz stands out from the list with its extraordinary approach. Chara Ruiz came to Ibiza from Barcelona. Freedom atmosphere of the island inspired her to create wonderful things and she started her enterprise in 1980. This is how the famous brand was born. Now Ibiza fashion house offers rich choice of stunning beachwear. All things that enter Charo Ruiz collection are truly Ibizan. The clothing is made in Ibiza only. All stages of the procedure are carried out on the island from pattern making to sewing.
Buy stunning kaftans to complete your wardrobe for holidays. Chara Ruiz uses the finest 100% cotton voiles, guipure lace, and brocade.