Spring Break Shopping
Spring is a perfect time to change the wardrobe and buy something new. So, if you are trying to decide between Paris or Milan for shopping spree, Elite Club Ltd. may give you a few ideas on where to do your shopping. Big cosmopolitan cities of London, Dubai and New York have the best shopping malls in the world.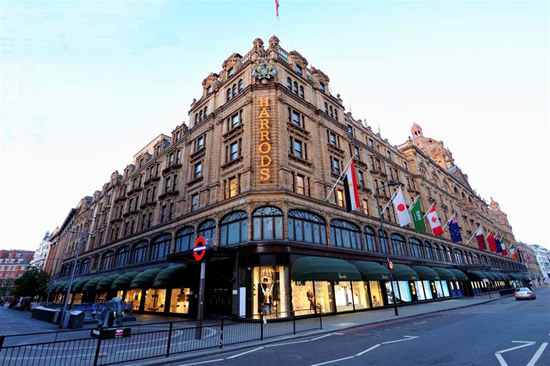 Elite Club Ltd. is pretty sure that it's hard to beat London. In our book its destination number one. Legendary department store Harrods is mecca for fashion lovers. This historical mall is one of the world's most famous luxury shopping destinations located in the heart of posh Knightsbridge. Britain's most luxurious department store is the largest shopping mall in Europe. Under one roof you can find world's most exclusive and upmarket brands in fashion, home and leisure furniture, latest gadgets, art, and gourmet foods. Today, it occupies over one million square feet of selling space where you can find any luxury item of your desire. If you plan to spend a fortune, Elite Club Ltd. recommends booking Penthouse Suite by the appointment. You will be exposed to the sales professionals from every department and in matter of hours you can purchase fine jewels, art, furniture, latest fashion items, gourmet foods and antiques. If you prefer to run around the store on your own, make sure you have a whole day. It's best to start in the morning and work your way up. On the ground floor there is an impressive array of luxury cosmetics; Bobbi Brown, MAC and Tom Ford always have nice selections and the latest palettes of colours. On the same floor you can also try one of the Bottega Veneta or Dior bags. Louis Vuitton and Chanel offer state of the art accessories, leather goods and scarves. Ground floor also features fine jewellery such as Chopard, Bulgari and Tiffany. On the first floor you can explore the best of the best from Gucci, Armani, Ralph Lauren, Roland Mouret, Alexander Macqueen, Stella McCartney and other luxurious brands. Make sure you spend proper time in the shoes section where you can find anything from sandals to the boots and to red carpet stilettos. On the other floors you can shop for art, home supplies, furniture, luxury lines, books, and many more. Finish the day with an English tradition of afternoon tea and scones served on the fourth floor at the Georgian restaurant.
Elite Club Ltd.'s other favourite destination for shopping is Dubai. Dubai Mall in the United Arabs Emirates is state of the art mall with over one five hundred boutiques, shops, stands and cafes. Many European tourists go to Dubai for holidays in order to escape cold temperatures and enjoy sunshine. Dubai became world famous not only for its beautiful beaches, cutting edge infrastructure, but also for its amazing shopping experience. Dubai has so many modern luxury malls, that it's really difficult to pick the best. Elite Club Ltd. recommends Dubai Mall, this high end department store has many designer boutiques, restaurants, ice skating ring and gold souk that offers custom made jewels, diamonds and precious stones.
The list would not be completed without mentioning fabulous cosmopolitan city of New York. Saks Fifth Avenue is one of the best malls in the Big Apple. If you are lucky to do your shopping in New York, there is no better place to find special and one of the kind collections than Saks Fifth Avenue. This upscale department store is owned by American multinational corporation Saks, Inc., which operates the flagship store in Midtown Manhattan on Fifth Avenue. Andrew Saks found this luxury shopping destination back in 1898. Today, you can enjoy over 100 different exclusive brands that define luxury. Iconic American designers and International luxury brands are waiting for you.