Where to stay and what to see in Sri Lanka
If you decided to make a trip of tropical delights, traveling among corals and trying diverse local treats such as crabs, prawns and other delicious treats, Sri Lanka is an excellent choice!
There is much to do in Sri Lanka if you want to explore its history. Walking in Galle Fort, you can feel the atmosphere of the past as the streets remind of colonial era. You will see Dutch-era mansions there.
Pinnawella Elephant Orphanage is another destination you should definitely visit. It was founded in 1975 to give care to orphaned wild elephants. Some elephants are bottle fed as a tourist attraction.
Many tourists come for a pilgrimage to Sigiriya. This is a World Heritage Site where one can find 1500-year old painted frescoes on a rock. The rock with a plateau on its top is about 200 meters high. It served as a Buddhist Monastery since the 5th century CE but caves in the vicinity were occupied by Buddhist monks since 3d century BCE. It was turned into a fortress later and can tell much to explorers about the history of the country. It presents one of the most dramatic natural sights of Sri Lanka and you should climb its top.
Visit Yala National Park to see leopards and other wild creatures and birds in it. An unspoilt landscape of its lagoons and jungle can amaze travelers.
Those who are interested in history should go to Anuradhapura, the ancient capital of the country (11-13 centuries). You can find the collection of Buddhist art there and huge Buddha statues, in particular. The atmosphere is magnificent among those ancient ruins.
Adam's Peak (2,243 meters) is not the highest mountain in the country but the most dramatic one with excellent view that opens from it. It's an object of pilgrimage as well.
Make a trip to the World's End – one of the stunning points and an excellent destination for hiking trip.
You will also like a trip to tea plantations, to the hill city of Kandy, and a modern city Colombo where you can find contemporary hotels, chic restaurants and shops.
You can stay in one of its luxury resorts:
Amanwella offers 26 modern suites on the hillside over the Indian ocean. Each suite has a private terrace where you can rest in a lounger near the table. You will discover spectacular sights and sounds of Sri Lankas's south coast. Enjoy the view of the ocean, beach and coconut grove. The suites are equipped with floor-to-ceiling sliding glass doors. It is located near the fishing village of Tangalle.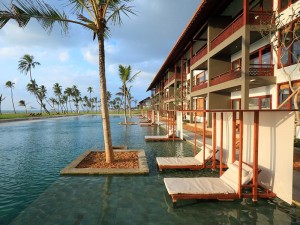 Anantaya Resort & Spa Chilaw is also located in a wonderful place, on the coast of the Indian Ocean, where you can wake up to the sound of waves. It offers 87 rooms. The place is boast of tranquil spa over the lagoon. The sights of palms and mangrove, aquamarine tides on the coast create idyllic lagoon for perfect rest. Everything can be rated as high-class there from stylish design of the room to exquisite cuisine presented with different dining options. Enjoy the drink in a poolside bar or choose some activity to your taste (kayaking, whale watching, volleyball, etc.). It is close to Colombo International Airport (the road takes an hour and a half).
I would also recommend Amaya Beach resort that features one of the longest stretches of shallow coastline in the world, located 35km northwest of Batticaloa. The tourists love Passikudah's bay for its unique setting as the bay is protected by a reef thus making the place the safest stretch of coastline in the east. There are amazing coral formations and reef fish there. There are 125 rooms and suites in the resort, an award-wining spa, plenty of activities for kids and adults, bars, cafes and restaurants.
You will also love Avani Kulutara Resort, Jungle Beach Resort, Vendol Resort, Welligama Bay Resort, Eden Resort And Spa. You can have amazing vacation in one of these resorts that will open Sri Lanka's incredible riches of nature to you.