Best Hotels to stay in Moscow during March 8th
Moscow doesn't have a shortage of luxury hotels. Russian capital offers 24 hotels that are considered 5 star. So if you are heading to Moscow for business or pleasure, you can choose among historic hotels that were build in the early 19th century such as "National" , "Metropol", and "Savoy". But, perhaps, two modern hotels that fall into ultra-luxury category deserve special attention.

The Ritz-Carlton – splendor in the Russian capital



Ritz-Carlton Moscow is the statement of prestige, and extravagant lifestyle. This luxurious hotel is located in the heart of the capital, 5 minutes away from famous Bolshoi Theatre, Red Square and main shopping street.
Ritz-Carlton has a sophisticated, elegant décor of the Imperial Russia, with a twist of classicism and baroque. Guests can enjoy breathtaking panoramic views of the Red Square and the Kremlin. The spacious rooms are decorated with beige and noble dark cherry colors, marble and latest technology gadgets. The hotel features one of the best SPAs in the city where tranquility and bliss create the atmosphere of relaxation. ESPA offers 14 treatment rooms, sauna, Jacuzzi and swimming pool. You can also use a fitness center and beauty salon. Ritz-Carlton Moscow is renowned venue for major business conferences, gala dinners and other special events. It's a perfect location to celebrate your birthday or throw a corporate party. It's also one of the best places to sip a drink overlooking the main sights of Moscow. O2 Lounge is located on the roof top and offers expansive wines, sushi and Russian specialties.
Barvikha Hotel & Spa – an oasis of luxury and comfort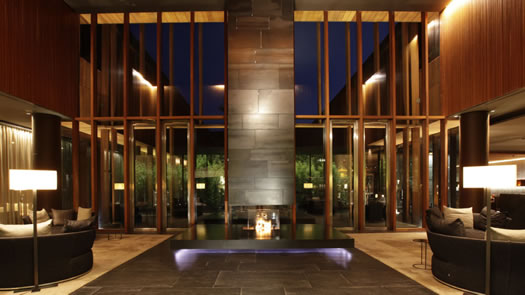 This modern five-star hotel is located 8 km from Moscow in Barvikha village. It is one of the most luxurious villages near Moscow – Barvikha was once home to the first president of Russia.
Style, comfort and excellence – these are the main ingredients of success for Barvikha Hotel & Spa. Antonio Citterio, one of the most famous contemporary designers in Europe designed the hotel a few years ago. As a result, the interior reflects designer's vision for contemporarily, fashion and luxury. The décor of each room features wood, marble and stone, panoramic windows, expansive furniture. The rooms have lots of light and many of them face pine tree forest. Special suites have spacious terraces and fireplace. Barvikha Hotel & Spa works uses Henri Chenot detox methods and programs. So, if you are staying in Moscow for a few days, you can easily get rid of excess weight, signs of aging and stress.
Barvikha Hotel & Spa is also part of the larger complex, where you can find high end shopping, entertainment at the concert hall, and fine dining.