Luxury Travel to London
Pick Virgin Upper Class
Travelling to London in style and comfort is essential for any seasoned traveller. If you are flying from the US, make sure you book one of the first class suites on the Virgin Atlantic Upper Class.
Upper Class is often referred as a revolutionary way of offering luxury on board and on the ground. State of the art business lounge, limousine service and gourmet food make Virgin Atlantic one of the most premium services airline. Clubhouse lounge is the best place to start your experience with Virgin Atlantic. At London's Heathrow, you will be amazed with spacious lounges and rooms, restaurant, champagne bar, snacks buffet, and TV area. Innovation is the core of the business values and corporate identity of the Richard Branson's company. Therefore, all aircraft's are equipped with latest IT gadgets, power point, laptop space and entertainment systems. The futuristic on board bar is a great place to socialise with fellow travellers of colleagues. For harmony and relaxation individual suite provides a long full size bed, comfort system, and padded sleep sheet. It doesn't matter if you are drinking Lanson Black Label Champagne, working on your work presentation or watching a movie, Upper Class is the true luxury in the sky.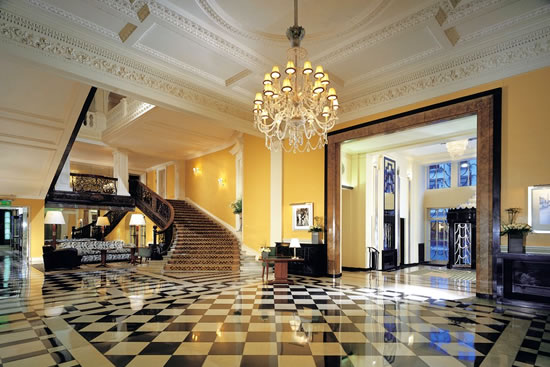 Stay at Claridge's
There is no hotel in London like Claridge's. Located in the wealthy and luxurious West End, this iconic palace has the best of the luxury world: amicable reputation, high end standards, unique & traditional design and amazing history.
Staying at Claridge's is the privilege. This luxury art deco hotel is the 'annexe to Buckingham Palace'. Claridge's symbolises the prestige, history and connection to the many royal families around the world. Peter II of Yugolsavia made his home at the hotel during the World War II, other fans include the late Queen Victoria and the Empress Eugene. Today, Anna Wintour, Mick Jagger and Brad Pitt choose this hotel for their stay in London.
This splendid hotel is so old fashioned yet at the same time modern. A true British classic, on one hand, it keeps traditions like a posh afternoon tea with a silver teapot, but on another, it pushes the envelope with the bold innovative chef Gordon Ramsey. When you look around the hallway, all you can see and feel is sophisticated fabrics, luxurious furniture, 1920s ambience and aura, authentic lift, and attention to details to every piece in the interior.
If you prefer boutique and private hotels, Innerplace recommends Baglioni Hotel in South Kensington. The 5 star Baglioni offers 68 elegant rooms (50 of which are suites) and a touch of real Italian style in the middle of London. Overlooking Kensington Gardens and enjoying wonderful views of Kensington Palace and Hyde Park this luxurious boutique hotel combines a prestigious address with a charming atmosphere. The rooms and the service are excellent and there is actually a butler for every floor! Simply one of the best hotels in London.