Harrod's – A Shopping Mecca
London has several shopping districts, many of which have their own specialities. Mayfair and Kingsbridge are famous for high end boutiques and luxury shops located on the Bond Street and Sloan Street. Regent Street offers mid-priced fashion stores and famous shops such as The Apple store and Hamleys. On the historical Jermyn Street you can find elegant men's clothing stores where you can make bespoke shirt or custom made boots by John Lobb. You can explore vintage items and quirky finds in Covent Garden or splurge in the shopping centers such as Selfridges, Harvey Nichols or Harrods.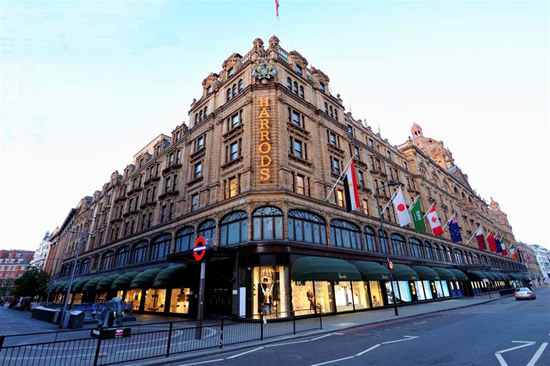 Harrods is mecca for fashionistas and luxury shoppers. This historical department store is one of the world's most famous luxury shopping destinations located in the heart of posh Knightsbridge. Britain's most luxurious department store is the largest shopping mall in Europe. Under one roof you can find world's most exclusive and upmarket brands in fashion, home and leisure, furniture, latest gadgets, art, and gourmet foods. Henry Charles Harrod found a grocery store in 1824 and soon after he expanded across London. Today, it occupies over one million square feet of selling space where you can find any luxury item of your desire. On the ground floor you can buy your dream bag or perfumery, on the first floor you can enjoy the latest trends in fashion and a glass of champagne at the Veuve Clicquot bar. Urban Retreat offers high end hair styles and innovative skin treatments. Treat yourself to the best of British delicacies at the Tea room or snack on mouth-watering kebabs at the Rotisserie. Today, Harrods is owned by Qatar Holdings, the sovereign wealth fund of Qatar, hence you can find In-Q room on the second floor where you can learn more about Islamic culture and taste delicious Arabic coffee.
If you plan to spend a fortune at the store, Elite Club recommends booking Penthouse Suite by the appointment. You will be exposed to the sales professionals from every department and in matter of hours you can purchase fine jewels, art, furniture, latest fashion items, gourmet foods and antiques. If you prefer to run around the store on your own, make sure you have a whole day. It's best to start in the morning and work your way up. On the ground floor there is an impressive array of luxury cosmetics; Bobbi Brown, MAC and Tom Ford always have nice selections and the latest palettes of colours. On the same floor you can also try one of the Prada or Gucci bags. Louis Vuitton and Chanel offer state of the art accessories, leather goods and scarves. Ground floor also features fine jewellery such as Chopard, Bulgari and Tiffany. Cartier has a nice department with jewels ranging from £3 000 and over £30 000. On the first floor you can explore the best of the best from Lanvin, Missoni, Roland Mouret, Alexander Macqueen, Stella McCartney and other luxurious brands. Make sure you spend proper time in the shoes section where you can find anything from sandals to the boots and to red carpet high hill stilettos. On the other floors you can shop for art, home supplies, furniture, luxury lines, books, and many more. Finish the day with an English tradition of afternoon tea and scones served on the fourth floor at the Georgian restaurant.