Reserved Chic of Amanyara Resort
Come to Amanyara Resort, a gorgeous paradise, which is a perfect option for luxury peaceful rest. Surrounded by lush vegetation you will feel a different person there. Amanyara is a secluded, beautiful haven that borders pristine reefs of Northwest Point Marine National Park. Huge panes of glass making walls of villa provide special atmosphere as if you are a part of the environment full of hundreds tropical flowers growing your villa.
Splendid accommodations are scarcely decorated but there is some chic in this reserved style.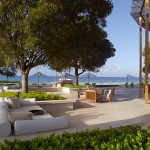 The word zen can be easily applied to this place. It comes to mind at once as you look at the way all is organized here: how lobby is made for instance. Churchlike elements of decoration such as cone-shaped ceilings, all around give peace and consolation. You can see polished Indonesian wood and churchlike ceilings at Amanyara resort. Subdued colors are mainly used in décor. You will not see bright colors in Amanyara hotel.
Luxury starts right from the check-in moment when vacationers get moist towels. The Amanyara resorts send Land Rovers to pick up the group of its visitors. They are ready to do the same even for a single visitor – the approach is individual to every visitor here, and every person gets fresh towels in the car. On arrival, persons get mojito or some other type of refreshing drinks.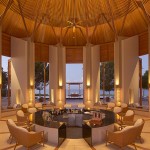 There is an enormous bar with huge rattan chairs where you can socialize or you can look at the ocean as you stretch out on the lounge pads. Alternatively, you can enjoy a view of reflecting pools or the infinity swimming pool.
The Amanyara hotel includes 40 rooms. 23 of them are located on the area with salt ponds. Other hotel rooms have an ocean view, which is either full or partial.
There is much space in the room and different design features contribute even more to it. Special wood slats will help you to have more privacy. Just slide them down for seclusion. There are electric shades with remote control you can find at your bedside. Slats made of Indonesian mahogany are beautifully arranged, while lighting contributes to the unique atmosphere of the room.
There is a nice shower with 10-feet rainfall cascade from the floor and a freestanding tub. The furniture is low and made in Japanese style. Furniture is not accentuated and all is done to emphasize spaciousness and comfort. The trend of blending into the environment is followed in the design. The outside area joins the space of the room and makes the unity in one style.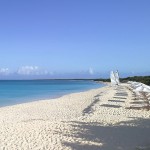 It takes 5-7 minutes to get to the main hotel where meals are prepared for visitors. The cuisine is international and dishes melt in the mouth. It takes about 10 minutes to get to the beach. As for the amenities, they are diverse. Alongside with various treatments, there are 2 clay tennis courts, a working room with advanced equipment with glass all over and sophisticated wooden roof pattern.
Set off on snorkeling and kayak trips, enjoy movies every night in small movie theatre with leather recliners, walk along the beach, watch fantastic rocks and use little elegant library complete with best books and fresh New York Times. There is so much to do there.