Gourmet Cuisine in Turks & Caicos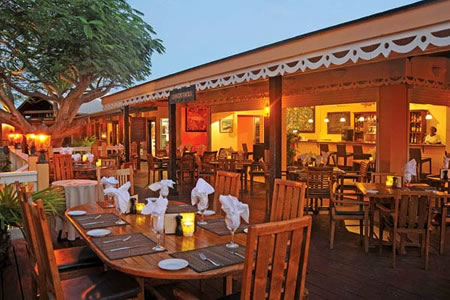 If you are travelling to Turks & Caicos, make sure you try Caicos Café.
This is a popular restaurant on Grace Bay which is located in the main island of beautiful Turks & Caicos. It belongs to French restaurateur and chef  Pierrik Marziou and his partner, Daphne, who believe in all the right things: freshness, simplicity, comfort. This means a limited but interesting menu of dishes, with choices that might include conch sashimi, tuna carpaccio, grilled snapper, and steak au poivre, along with home-baked breads. The covered, fairy-lit terrace and buzzing bar make restaurant to look local. Prices are high as an average entrée is $30, but portions are big and could be shared.
In its own garden oasis surrounded by lush tropical flora, Caicos Café exudes a casual Parisian sophistication and a captivating Caribbean charm. Flavors and techniques from Chef Pierrik and Daphne's French roots blend flawlessly with the tastes of the Caribbean and beyond to create a menu that is 'sui generis' certain to entice and impress the most discriminating diner. An emphasis is placed on the fresh fish and an extensive variety of conch specialties augmented by an equally alluring selection of dishes including pasta, beef, chicken, lamb and duck. The Tuna Carpaccio is a 'must try' at Caicos Café , its thinly sliced, drizzled with olive oil and served with an assortment of crisp and fresh side vegetables.
Appetizer selections also include Escargot, imbrued with butter, basil and garlic. Turks & Caicos specialty is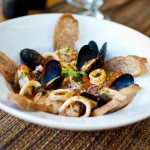 conch and in Caicos Café there are several unique conch offerings as starters or main courses and a popular array of fresh salads. Duck is fabulous as its prepared to perfection, moist with deep, intense flavors the Magret de Canard. Desert menu is extensive and offers all the best of the French pastry. When I visited the island, I ate their almost every day, it was impossible to resist lobster club sandwich. This place definitely makes Turks & Caicos tastier and more fun!