Love & Peace by Lorenzo Quinn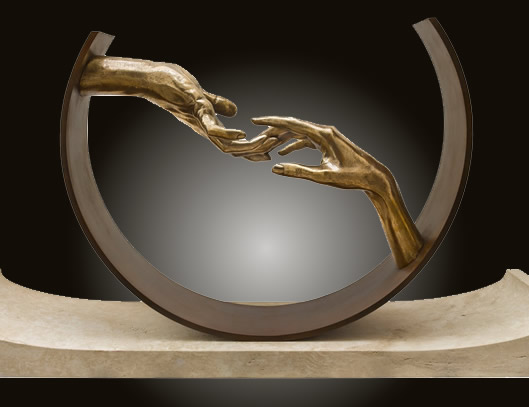 I recently came across the artwork by Lorenzo Quinn in Halcyon Gallery in London. His sculpture pieces "Forces of Nature" and "Finding Love" have captured my attention and inspired to do more research about the artist and his work. Lorenzo Quinn is a great example of an international citizen who achieved global success through talent, contemporarily vision and hard work. His sculptures appear in public displays, private collections, he frequently exhibits around the world and many governments have commissioned his work for museums.
Born in Rome, Italy, raised in the US, and recently residing in Barcelona, Spain Lorenzo Quinn transmits passion, spirituality and meaning in his art pieces. Inspired by Rodin and Michelangelo, Quinn's work symbolized life and energy in the form of hand, circles and human body. Lorenzo studied in the American Academy of Fine Arts in New York and his early work was influenced by his father, Mexican-American actor Anthony Quinn.
The artist's pieces promote peace, philosophical ideas and project such positivity and emotional balance, that it is no surprise that Quinn's sculptures are installed in public displays in many countries. The artwork Encounters is located opposite the Museum of Modern Art in Palma de Mallorca, Spain; Tree of Life is placed in Birmingham; and Rise Through Education was commissioned by the state of Qatar and installed in the Academy of Sports Excellence in Doha. In recent years, Lorenzo's works have been exhibited in the Russian State Hermitage Museum in St Petersburg, and in other major art galleries in Greece, Spain, Saudi Arabia, India and Singapore.
Lorenzo Quinn, his work and the success is a great example how art connects people and countries. There is no doubt that meaningful art has its own power to unite people from different cultures, inspire positive emotions and promote peace and love.