Top Travel Destinations 2017
No-filter Kauai stole the show in the Jurassic movies and more than 60 other feature films. The island's ubiquitous aerial tours do deliver jaw-dropping views of the towering Na Pali Coast sea cliffs, cascading waterfalls, and other blockbuster locations. But plunging deep into the Garden Island's wild side requires hitting a trail. Marked hiking paths lead onto the floor of Waimea Canyon, through the shallow bogs of Alakai Swamp, and across unbelievably lush landscapes. One newer route, the five-mile Wai Koa Loop Trail, passes through North America's largest mahogany forest.
If silence is golden, you'll discover the mother lode in Finland's state-owned protected areas. From near the Arctic Circle in Lapland (where the northern lights can be seen up to 200 nights a year), through the 20,000-island Finnish archipelago, and along the rocky beaches on the mainland's southernmost tip, Finland's 40 national parks, 12 wilderness areas, and six national hiking areas are sanctuaries for silence-seekers.
It's no wonder that Finns celebrate a hundred years of independence in 2017 with four (winter, spring, summer, and fall) nationwide Finnish Nature Days, and by designating Hossa Hiking Area as the country's 40th national park. Join the party on a winter digital detox at WiFi-free Torassieppi, a rustic and remote reindeer farm. No phones or other electronic devices are allowed, freeing you to focus on more restorative pursuits, such as reindeer sledding or snowshoeing through unspoiled Lapland tundra, forests, and fells.
Close encounters of the ginormous marine kind are common in the waters off Mexico's fingerlike Baja California peninsula. Baja is bordered to the west by the Pacific Ocean and to the east by the Sea of Cortez (also known as the Gulf of California), where behemoths of the sea—whales, great white sharks, and manta rays with wingspans up to 20 feet—and a variety of fish congregate.
With its rugged peaks, meadowed valleys, and turquoise-blue lakes, Banff (Canada) offers everything from mountain hikes and horseback excursions to hot spring soaks and luxury accommodations—making it an ideal destination for the 2017 celebration of our northern neighbor's 150th anniversary of nationhood and the perfect place to escape to for answers to life's questions.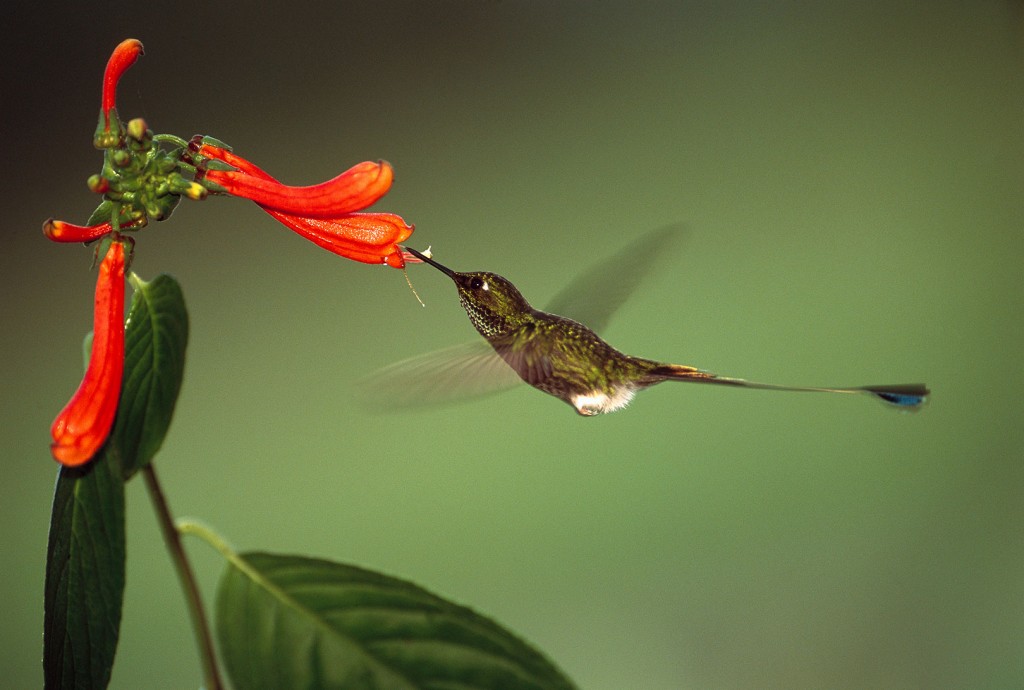 Birders flock to the primeval cloud forests of Ecuador's Chocó region, considered some of the richest depositories of plant and animal life on the planet. Located north of Quito on the fog-shrouded Andean slopes, the biodiversity hotspot is home to hundreds of bird species, including the flashy Andean cock-of-the-rock and dazzling hummingbirds. Other wonders include a profusion of epiphytes (air plants) and rare orchids.
The teddy bear-faced olinguito was identified here in 2013 as the newest mammal species in the Americas. At Bellavista Cloud Forest Reserve & Lodge go on a guided night walk to spot hand-size moths and flickering fireflies. At Mashpi, a National Geographic Unique Lodge, soar through the mist on a zip-line Sky Bike or an open-air gondola for heady views of the forest canopy.