Hottest Eyewear Trends 2014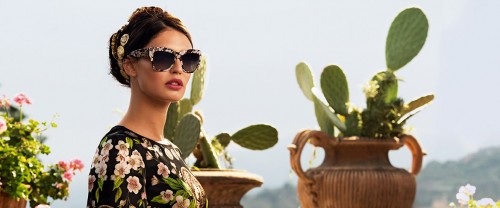 A pair of sunglasses is a finishing touch of any look so no wardrobe is complete without sunnies. Let us look what is trending in terms of eyeglasses in 2014. It is always exciting to see new collections of Dolce, Prada, Tom Ford that can accessorize spring and summer look in 2014.
Some brands presented their collections pairing them with fluid and relaxed outfits this season. It is not accidental as such designs look perfectly with bold and chunky designs of glasses that are in fashion this year. Eyeglasses in exaggerated bold style will look impressive if you select the proper clothing. At this shape of the frames is of primary importance. You can create an ideal look if you choose the one to suit the image.
Sometimes trends are retro-inspired and seem to take us back in time. Cat eye glasses can be a cute addition to your wardrobe, especially when paired with clothes properly.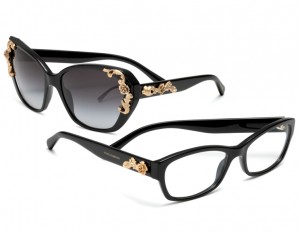 You can notice oversized glasses of diverse shapes in collections of different brands. Round shape, for instance, and oversized glasses make an excellent combination. Perfectly round glasses is a hit this spring!
Frames with elegant detailing make the image more sophisticated. This can be a metal browline detailing or detail of the same material but contrasting in color.
Dolce & Gabbana presents a great variety of styles you can choose from. Here you will see Aviator/Pilot, Butterfly style, Cat Eye, Rectangular, Round, Square or Wrapped shapes.
Dolce & Gabbana eyewear is the best choice if you want to acquire something extraordinary and exclusive. For lovers of luxury a precious collection of this brand was launched. The ancient Italian craft of micro mosaics was used for creation of this collection. Sunglasses from limited edition of Dolce&Gabbana Mosaico Eyewear expresses the highest Italian craftsmanship ability. The frame of gold is covered with mosaics made of precious stones. Careful manual work, décor created from 1000 micro-tiles decorate the temples and front of the model DG2136. The design recreates different flowers and looks very romantic, bright and fresh.
If you want more reserved style then you can choose the one where only temples are embellished with mosaic flowers. DG2135 model comprises 600 micro tiles: 300 on each temple.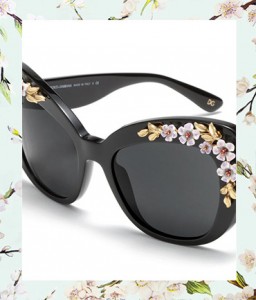 Prada is one of the most famous fashion brands that produces everything for stylish elegant look. Prada eyeglasses are outstanding just as everything the company produces. Superb quality and innovative approach of the company made the brand recognizable. We see the style of Prada as it is recognized in accessories. These products make the look elegant and refined. The most widespread shapes and styles include wayfarer, rectangular, round, square, oval, cat eye, oversize sunglasses.
All trendy features can be found in different collections of Prada. Prada presents fantastic "Portrait Sunglasses" with mosaic contrasting browline. "Dixie Sunglasses" remind of retro style. Minimal baroque presents exquisite curves either on temples or on front. They can include contrasting elements that contribute to sophisticated look.
Step into the future with "Illusion Sunglasses" that include one front piece that is hardly divided. It looks superb as if you've arrived to the next century. If this statement is too bold for you, you can select "Folding in Love" sunglasses, which feature the ability to fold.
Tom Ford never disappoints. Vintage inspired frames from Tom Ford can be proud of flawless design and expensive material. Minimalist luxury of this brand speaks about your sense of style. Tom Fold sunglasses combine comfort and fashion. You will like its refined lightweight silhouettes. The elegance of the models is in luxurious details that make Tom Ford sunglasses stand out.