8 Romantic Restaurants that Indulge Your Culinary Fantasies
One of the great pleasures of traveling is discovering romantic dining experiences that provide gourmet cuisine, exemplary service and an exquisite ambience. Restaurants that offer an indulgent atmosphere complete with candlelit dining and soft music are always savored by discerning guests. Sharing house-made appetizers and entrees with a special someone followed by decadent desserts often completes a day of sightseeing or other tourist activities. These eight restaurants are among the most romantic in the country.
Cress, Sedona, Arizona
Set along the banks of the majestic Oak Creek, Cress offers a romantic dining experience perfect for a special celebration. Boasting candle-lit tables as well as an interior that truly sets the mood, couples can enjoy dishes by Executive Chef Michael O'Dowd who draws upon the earth as inspiration for his ingredient-focused dishes. Special occasion menus feature wild mushroom bisque with pistachio rolled bleu cheese marble. Scrumptious entrees include poached lobster tail & Kobe beef filet, 72-hour marinated game hen, line caught steelhead and diver scallops.
The Broadmoor, Colorado Springs, Colorado
The Broadmoor recently introduced new Chef de Cuisine Max Robbins who creates contemporary European cuisine inspired by the seasons. Set in a classically elegant ambiance with enchanting mountain views, the Broadmoor's Penrose Room was recently named "Best Historic Restaurant in Conjunction with a Historic Hotel" by the National Trust for Historic Preservation/Historic Hotels of America.  The resort often highlights savory delights at the romantic Penrose Room which showcases "The Chocolate Experience" featuring three outrageous chocolate desserts: Milk Chocolate & Passion Fruit Parfait with Hazelnut Feuilletine; Dark Chocolate & Bergamot Marquis; White Chocolate and Huckleberry Panna Cotta.
Homestead Inn – Thomas Henkelmann, Greenwich, Connecticut
Ensconced in a beautiful 19th-century Victorian manor house set on three acres of garden and lawn, Homestead Inn Thomas Henkelmann, Greenwich, is exquisite boutique hotel located in the prestigious Belle Haven residential area, yet minutes from the attractive downtown. Its contemporary French restaurant is overseen by renowned Chef Thomas Henkelmann, who along with his wife Theresa, founded the Inn in 1997. Begin your gastronomic adventure with lobster bisque or smoked salmon, followed by domestic rack of lamb with a tapenade and herb crust or grilled swordfish with artichoke puree, baby vegetables and balsamic reduction sauce.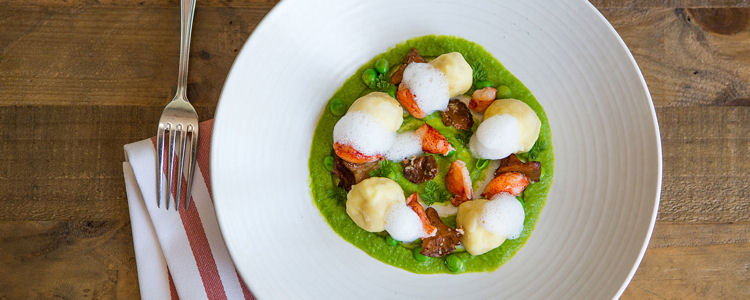 The Kentucky Castle, Versailles, Kentucky
Nestled in the spectacular landscape of the beautiful surrounding horse farms, a dinner at The Kentucky Castle offers a luxury experience worthy of royalty. The Castle Farms Restaurant takes farm-to-table to a whole new level by considering their ingredients all the way down to the soil in which they are produced. Special occasion menus include such appetizers as caviar crostini, fried oysters or a mushroom tart. Taste tempting entrees range from a Blackhawk Farms Kentucky proud filet mignon to a half hen with a caper sauce and purple Peruvian mashed potatoes.
Inn by the Sea, Cape Elizabeth, Maine
Only ten minutes from Portland, the Inn by the Sea features the talents of Chef Andrew Chadwick at the intimate Sea Glass Restaurant. Guests are treated to an extravagant dining experience with spectacular ocean views from its secluded oceanfront dining room. Chef Chadwick marries the freshest local ingredients with a focus on health and taste to create "intelligent" cuisine that offers full flavor while retaining nutritional value in preparation. Extra special dinners often include local oysters, lamb, scallops and cauliflower a la plancha. A dark chocolate cake rounds out the evening.
The Bedford Village Inn, Bedford, New Hampshire
Bedford Village Inn presents a special four-course dinner for celebratory events in their AAA Four Diamond-Rated restaurant, comprised of seven immaculately restored dining rooms, individually decorated and many adorned with fireplaces. Sit back and relax in the warm atmosphere with a handcrafted winter cocktail or a glass of wine from the expanded wine cellar. Executive Chef Tina Verville prepares contemporary, regionally sourced cuisine with such delightful dishes as Cape Cod oysters, pan roasted Scottish salmon and local mushroom and ricotta lasagna. A variety of grain-fed Angus beef rounds out the selections.
Inns of Aurora, Aurora, New York
At the Aurora Inn Dining Room couples are able to cozy up in front of an original fireplace. The dining room's location on the eastern shore of Cayuga Lake guarantees that almost every meal is enhanced with gorgeous sunset views. Executive Chef Patrick Higgins serves locally sourced, award-winning cuisine with a farm-to-table focus. There are numerous "must try" options on the menu. A carrot latke with raisin, red onion and hazelnut is the perfect way to start your meal, followed by a local pear chopped salad. Entrees include grilled beef tenderloin or hand-made pasta with sirloin, pork, tomato and garlic.
The Peabody Memphis Hotel, Memphis, Tennessee
With a style and tradition befitting one of Memphis' most legendary hotels, Chez Philippe has been named among Food & Wine magazine's "Top 50 Hotel Restaurants." Classic French cuisine has earned Chez Philippe the distinction of being a AAA Four-Diamond rated restaurant. By featuring sauternes poached pear, wild mushroom risotto with potato gratin, beurre rouge, asparagus, and hollandaise, Executive Chef Andreas Kisler adds a personal touch to each meal.