Best Boutique Hotels in Baja California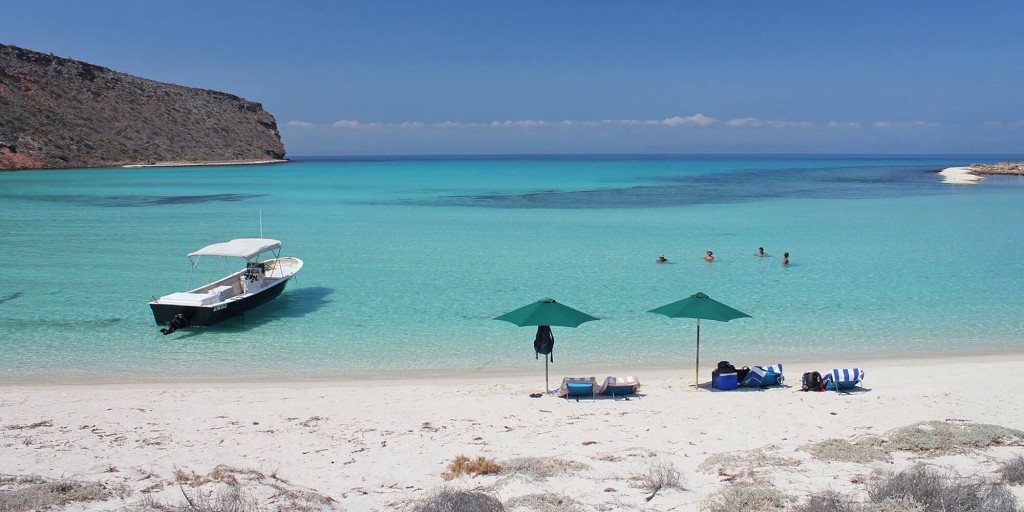 Baja Camp, Isla Espiritu Santo
An hour's boat ride from La Paz takes you past spectacular sheer red cliffs and delivers you to Baja Camp, located on a secluded beach on Isla Espíritu Santo. The island is a nature reserve with no hotels or marinas and the desert landscape is distinctly Martian. As you approach the bay, you can spot sea hawks nesting on the rocks and pelicans skimming the turquoise sea rich with marine life. The isolation gives you a real sense of being in the wilderness, but sleeping under canvas here is a far cry from usual camping. You get large luxury tents with proper beds, warm showers, chilled cocktails and delicious seafood prepared by Italian host, Andrea Tamagnini.
There are opportunities to kayak, trek across the island, go wreck diving and snorkel with the nearby colony of sea lions. But there's no particular routine to the day – just get up when you want, swim in the warm crystal-clear waters, sunbathe, eat the freshest fish, consume margaritas, repeat…
Casa Natalia, San Jose del Cabo
One of Mexico's most popular getaways is Los Cabos, a 32-mile corridor on the southern tip of Baja California, renowned for world-class scuba diving, sport-fishing, golf, luxury hotels and glitzy timeshares. The noise and crowds in party town Cabo San Lucas can steal the charm from your holiday; our advice is head for Casa Natalia, a colour-filled boutique hotel in the more authentic Spanish colonial town of San José del Cabo.
On arrival, you're welcomed with a chilled hand-towel and a refreshing drink flavoured with hibiscus flowers. European-born owner Nathalie and her attentive staff are dedicated to treating you as their houseguest. The 14 rooms and 2 suites overlook a contemporary courtyard of cascading patios lined with rustling palms, bougainvillea and waterfalls. Start your day with breakfast on your private terrace, then relax by the pool. Or ask the concierge to arrange a snorkelling, fishing, or jeep excursion. End your day dining under the stars at their gourmet restaurant, Mi Cocina.
Villa del Faro, San Jose a la Ribiera
In 1989 a large extended family of LA-based artists, architects and writers bought 12 acres of land on the exquisite wild East Cape of Baja California Sur, where whales pass by and cacti bristle from the brush. They lived in tents on the endless empty beach, while painstakingly crafting Italianate dwellings around the trees and plants, creating a lush paradise from the desert. Mexican artisans handmade unique furniture, ironwork and carved mouldings for tiles and balustrades. The result is a loving and witty ensemble of vintage pieces, folk art, paintings for sale, fireplaces, rattan chairs, family collectibles and mementos. Immaculately tended tiered gardens, tropical plantings, terraces and palms, playful sculptures, paved walkways, neo-classical fountains, sit-outs, palapas and alcoves all lead to a lavish swimming pool, and on down to a pristine private beach on the turquoise Sea of Cortez.
In the mid-Noughties they opened up the beautifully furnished suites and the impossibly romantic beach cottage to paying guests, converting the ping pong room to a dining palapa and serving superior Mexican influenced fare.