The Top 5 Best Boat Journeys
Boats are often overlooked as a way to see the world. In a lot of cases, though, boats are the best, and frequently the only way, to properly see a destination. Here are five of the best boat journeys the world has to offer.
Fjords, Norway
For more than a century, Norway's legendary Hurtigruten ferry route has linked the numerous coastal villages and towns. Year-round, 11 modern ferries head north from Bergen, reaching Kirkenes before returning. Take the 11-day round-trip that pulls in to 34 ports and offers various opportunities for side-trips, or just cruise a stretch (or two) of this trip. Features on the full itinerary include fabulous fjords and islands that see the midnight sun, medieval monasteries and Art Nouveau towns.
Halong Bay, Vietnam
Bobbing on the emerald waters of Halong Bay and moving through its 3000-odd limestone islands is simply sublime. The tiny islands are dotted with beaches and grottoes created by wind and waves, and have sparsely forested slopes ringing with bird tunes. There are more than 300 boats based at Bai Chay Tourist Wharf waiting to sweep you away to the World Heritage waters. Day tours last from four to eight hours, though (recommended) overnighters are also available.
Galapágos Islands, Ecuador
Get on board the wilderness experience of a lifetime by cruising the haunting beauty of the Galápagos Islands – 1,000km (620mi) from mainland Ecuador. Here you can swim with sea lions, float nose-to-beak with a penguin and stand next to a blue-footed booby. Live-aboard boats range from small yachts to large cruise ships, with the most common variety being the motor sailer (a mediumsized motor boat), which carries up to 20 people and cruises for anywhere from three days to three weeks.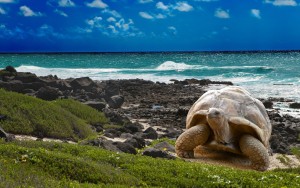 Milford Sound, New Zealand
You don't have to go far to see why Milford Sound is the most visited fiord on New Zealand's South Island. Sheer, weathered walls dominate the serenity here that's often doused with rains. Cruises run for an hour or two, and depart from a huge wharf – a five-minute walk from the car park. Choose to sail or motor among the spectacular valleys looking for glimpses of the area's endemic wildlife, such as hoiho or yellow-eyed penguin. Overnight cruises are also worth considering, with boats sailing the full 22km (14mi) length of the Sound and offering kayaking trips to shore.
Franklin River, Australia
Not for the faint-hearted, rubber-rafting down the wild Franklin Riveris a challenging and, at times, treacherous undertaking. The isolated wilderness of Tasmania's World Heritage area protects ancient plants and endemic creatures. Accessing it by boat can only be done between December and March, and requires eight to 14 days – only experienced rafters are eligible. Rafters usually access the unpredictable river – given to fits of flooding – at Collingwood River (49km or 31mi west of Derwent Bridge) and finish at Gordon River, having prearranged a pick-up.