Best shopping outlets in Europe
People in Europe love shopping in the outlet malls, which are great entertainment centers as well. People come there not only for shopping but for relaxation. Malls include movie theatres, restaurants, fast food shops, parking lots and arcades for children, where parents can drop them off and shop without being disturbed. You can do it at any weather as the malls are indoors.  The shoppers enjoy big variety and can buy almost everything at one place. As you see, it is very convenient shopping destination.
For instance, Bielany Retail Park in Poland includes 8 movie screens, the largest IKEA shop and more than 80 shops. However, the biggest mall in Bulgaria, which is Paradise Center, offers even more: there are over 330 shops in it. It has almost everything shoppers need.  The mall is located in the capital of the country Sofia. It was divided into different zones that are reflected in its design. There is the canyon, garden, boulevard, roof terrace, pharmacies, banks, a garden with nice illumination etc. Visitors can enjoy the ice rink and look at the waterfalls. There are 14 multiplex theatres on the second floor, a food court, bars, restaurants. There is a fitness center with a spa on the 3d floor. Also, squash and tennis courts are provided for the clients.
Arena Centar that is located in Croatia belongs to the list of the biggest outlet malls in Europe. There are shops on 2 levels of the mall and opportunities for entertainment on the third level. There is a nice design and good atmosphere in it so shoppers love to come to it for shopping and entertainment.
One of the most interesting outlets is in Zaragoza, Spain. It is located around the boating lake, which is actively used for outdoor activities. The planning and design of the mall is beautiful and convenient.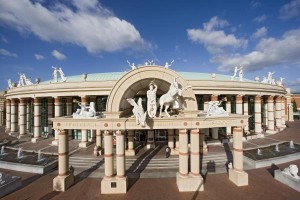 Trafford Centre in Greater Manchester, England, UK, is superb. It has excellent, luxury design and includes huge shopping area with 280 shops and leisure complex. The decoration of interior is performed for visitors to behold. The dome of the mall is even bigger than St Paul's cathedral dome.
Also, among the best outlet malls are Mediterranean Cosmos in Thessaloniki, Greece with over 200 shops, Westgate Mall – London – United Kingdom with 365 shops and Istanbul Cevahir in Turkey that includes 343 shops, which are the first who sell new fashion collections. There are 34 fast food venues and 14 chic restaurants at that place.
The best prices can be found in the factory outlets. The most popular in Europe are Adidas Factory Outlet that is located in Herzogenaurach, Germany. This is a small German town, a hometown of Puma and Adidas.
Marimekko Factory Outlets are popular in Europe as well. One of them is located in Helsinki and others are scattered around Finland.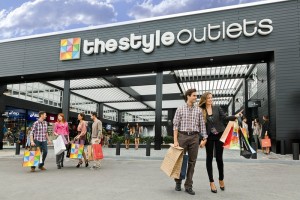 Sevilla the Style Outlet in Spain is located not far from the airport of Sevilla. You can find clothing of different brands in it such as Gucci, Tommy Hilfiger, Diesel, Puma, Miss Sixty, Reebok, Mango, Hugo Boss, Benetton and many others.
If you want to buy Nike products 40-50% cheaper, you should go to Nike Factory Outlet Store in Copenhagen, Denmark. Special offers and sales can make the discount even bigger and you will save more.
Premier Outlets Center in Budapest, Hungary sells the products of such brands as Pierre Gardin, Puma, Tom Tailor, Levis, Oui, Park Avenue, Salamander, Nafnaf, Calvin Klein, Timberland, Lee, Dolce & Gabbana, Mexx, Columbia and so on.
There are also outlet shopping villages for shopping that offer big discounts. This option is a great alternative to expensive fashion houses, big malls and cluster of designer stores. There is relaxed atmosphere there. At the same time you can order service of coach and personal style consultant. Here is the list of such outlet shopping villages:
It has 130 fashion and lifestyle boutiques. Discounts can reach 60%.
A unique choice of Irish and international brands is offered.
There are more than 100 luxury boutiques and stores where you can buy almost all. It is 35 km away from Barcelona.
It includes more than 110 designer outlet boutiques.
Maasmechelen Village, Brussels, Antwerp, Cologne
You can easily get there from Brussels, Antwerp, Cologne, Düsseldorf, and Maastricht.
Save up to 60% of recommended retail price.