Top 10 must visit places in Vancouver. Where to stay.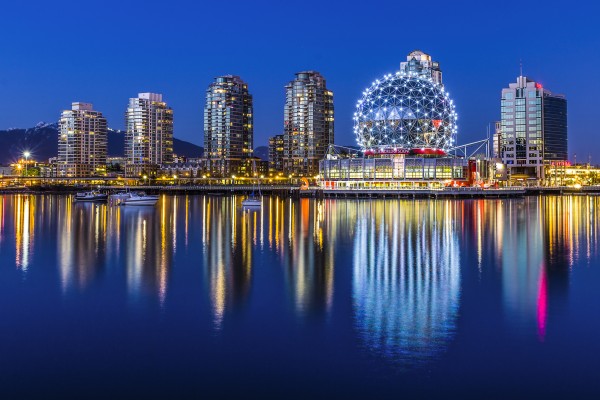 Vancouver is an excellent city and it is better to start your acquaintance with the city from the top. Take a spectacular 360° view of the city and its surroundings. Visit Vancouver Lookout at Harbour Centre to get to the deck which is 167 meters high.
You can also get fantastic view of Vancouver if you apply to the boat sightseeing company that arranges harbor cruises and events. If offers regular sightseeing and dining cruises. There you can enjoy the view of magnificent sunset and visit the area that can be accessed by boat only. This is the only opportunity to take authentic paddle boat with Indian Arm Luncheon Cruise.
Look at Canada using the latest flight ride technology Fly Over Canada. There you can enjoy spectacular sight as you soar from one coast to another. This is a fight stimulation ride for people of all ages. Thanks to an enormous dome screen and latest projection technology you get a true flying experience and even can experience mist, scents and wind.
You can also get memorable experience from the Peak of Vancouver. Grouse Mountain is just 20 minutes from the downtown Vancouver. There you can enjoy breathtaking panoramic views of the city, mountains and sea. Grouse Mountain Skyride will take you to the Alpine Station, which is over one thousand meters above the sea level. This is the biggest aerial tram system in North America. Aerial journey takes 1600 meters. The Eye of the Wind is a cool observation area encased in glass therefore it provides stunning 360 degree views of Vancouver and Coast Mountains. This is also a fantastic place for visit in winter. There you can take sleigh rides, a snowshoeing walk. You can also apply to Snow-Limo chauffeur who will take you for a snowy mountain trail excursion. The place offers a wide array of activities from paragliding to helicopter tours.
If you are hungry after a long journey you can find nice cafes, bistros and restaurants in the Peak Chalet. There you can try delicious dishes and enjoy fantastic view from the top.
Cross Capilano suspension bridge that is located 15 minute away from Vancouver. It is one of the most popular attraction of the country. Capilano suspension bridge is 137 meters long and sways across Capilano canyon. It is 70 meters above the Capilano river. Take adrenaline-pumping Cliffwalk on narrow cantilevered bridges, platforms and stairs. You can also take Treetops Adventure there to see a squirrel eye view of the park that is located nearby. This is a thriving coastal rainforest with fir trees that are 1300 years old. Kia'palano is an educational element of the park that provides the glimpse into the lives of ancestors who lived in B.C. period. By the way, there you can find the tallest living Christmas tree in December! It is beautifully adorned with sparkling lights.
What about a tour in old-fashioned horse-drawn vehicles? You can take such tour in Stanley Park that is often called attraction number one in Vancouver. Enjoy natural beauty of the place and interesting story about the world famous Totem Poles, the Lions Gate Bridge, the Rose Garden and other famous things. The tours depart every 20 minutes at any weather and last for an hour. The carriages are provided with roofs and blankets.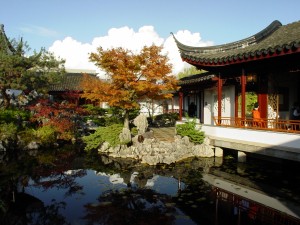 You can also enjoy the walk in a Chinese Dr. Sun Yat-Sen Classical garden. There you can experience tranquility near the koi fish pond, collection of miniature trees and constructions made in Chinese fashion.
Lovers of science can also go to the Science World and lovers of art to Vancouver Art Gallery. Look at Victorian building in Gastown – the oldest part of the city, where restaurants, cafes, shops and galleries are located. There is Robson street for shopping and Queen Elizabeth Park for golf, tennis or a nice evening stroll.
You can stay in the Pacific Rim hotel equipped with tech-filled suites and fantastic views of the North Shore mountains. There is a sushi bar that turns into a cocktail lounge at night. You can enjoy different aromatherapy treatments in the spa of the hotel.
There is also an award-winning Lodel hotel. Though it is located in the center, it is quiet and features personalized service. There is luxury interior in it. The place is highly appreciated for its design.
Other options include:
Listel, a charming West End boutique hotel.
Shangri-la, which is called a sample of modern hotel chic.
You may also love Sylvia hotel with a patio that reminds a private oasis.