Shopping and dining in Montreal 
 
You can have wonderful shopping experience in Old Montreal. There are a lot of galleries, shops and restaurants there. Besides, this is a very nice route. You can find a number of shops in a big Marché Bonsecours building. You can go to the 20-odd galleries that are located along Rue St.-Paul. You can buy exquisite attires on Rue Crescent and antiques on Rue Notre-Dame. Some shops in Montreal look like little museums.
Apparel can be acquired in Jean Airoldi (Quebec's designer), Muse, Nadya Toto, Lola & Emily, and etc. Harricana offers eco-friendly collections made of recycled materials. Other home-grown brands include such trademarks as Mélissa Nepton, Eve Gravel, Betina Lou. You can also visit Holt Renfrew – a premium department store of the city that offers mainly works of international designers.
Fou D'Ici is an urban food market with incredible assortment of gourmet goods. Dry goods and local organic foods are sold there.
Buy truffles and other delightful delicacies in Cho'cola – a cosy bakery and a café on Monkland Avenue.
Suite 88 offers delicious chocolate cravings. A sweet tooth should go Boutique Point G for French macarons.
Station 16 is the destination for art lovers. Many pieces sold there are from North America and Europe and many are limited edition.
It will be easier for you to choose the restaurant in the downtown. Most of them are located in close vicinity to the hotels which are concentrated mainly in the center of the city.
Such restaurants are between rues Guy and Peel or some streets and fashionable areas nearby. There are some well- regarded restaurants in Old Montreal. You can find them on avenue McGill or rue St-Paul, for instance. You can find more economical options if you do not order a la carte but find table d'hôte. This is a package of two or four courses.
Les Deux Singes de Montarvie is an international restaurant that is loved for its ambience, food, service, wines and presentation.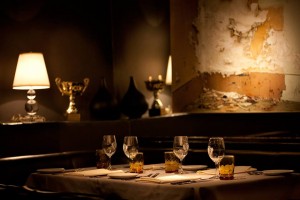 If you want to try refined Québécois fish & game dishes, you should go to Le Club Chasse et Pêche. The name is translated as Hunting and Fishing Club that was located in this building before. The dishes offered there include grilled octopus, roasted duck, rabbit ravioli, for instance. The menu changes often but favorites are always on menu.
If you want to try eclectic cuisine with French excellence, it can be found in Bouillon Bilk. The design is modern and fresh. The décor is simplified but yet not simple. The specialties include dishes made of local fresh produce and Quebec cheeses.