Top-3 Ayurveda Resorts in India
Kerala is considered the birthplace of Ayurveda. Now there are a lot of Ayurvedic resorts in Kerala, which is a beautiful Indian state. Being there is relaxation in itself. There are endless sandy beaches in Kerala therefore the most popular ayurvedic detox spas and clinics that specialize in weight loss are located there. Kerala is also called Venice of India due to its numerous rivers and canals.
You can go to Somatheeram Ayurveda Resort for detox procedures. Enjoy diverse amenities and comfort of the hotel with 79 rooms. Staying in peaceful environment on 15 acres of greenery, you can take pleasure from beautiful scenery, tropical aquatic delicacies, and submerge to the world of authentic ayurveda. The place combines the best of Indian traditional medicine.  You will feel the pure joy of relaxation and retreat there. Ayurvedic herbs are grown right there and then used for treatment. The best suited time for treatment is chosen for that. Person is treated on season with predominance of moisture in the air.
Patients come with different chronic and lifestyle disorders that lead to such conditions as migraine, stress, abnormal blood pressure, and so on. Using natural and harmless methods, specialists in Somatheeram Ayurveda Resort try to help all people. You can choose rejuvenation or body purification therapy. Also, longevity treatment and more specific programs are available. Discover your unseen powers with yoga therapy that contributes to treatment of different diseases.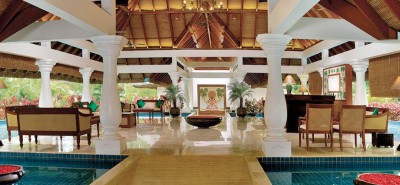 You can also choose wellness spa of Carnoustie Beach Resort & Ayurvedic Spa. This is a real paradise on Earth! There you stay in exquisitely furnished villas that feature combination of traditional and modern architecture. Each villa has a private pool. You can try the local seafood delicacies in Chimaera, or Ida, a multi-cuisine restaurant. You can also spend a good time on Carnoustie House Boat.
The spa of Carnoustie offers mystic art of healing, bringing mind and body in harmony with nature. You can get Yoga and Neuropathy treatments. There are packages for rejuvenation, purification, anti-stress, slimming and body packages. There is Ayurveda diet in it like in other resorts of this kind. The menu is tailored to the needs of the client on the basis of prescriptions of Ayurvedic doctor.
In Ayurveda oleation is used first for softening and suppling the body (internally and externally) with oils. Ghee in the morning will help to remove toxins from the gastrointestinal tract. Also, massage with oil and sweating away in a steam bath are additional ways to achieve the goal. All is performed by 2 specialists who finish their ritualistic procedures with a prayer.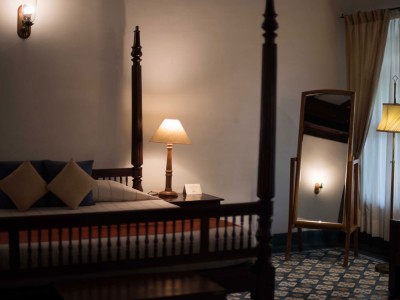 Ayurvedic healing is also offered in Kalari Kovilakom, which is a beautiful former palace. It was built at the end of the 19th century. 8 acres of wonderful gardens will surround you there. Choose one of the 18 rooms to take the treatment designed specially for you by the doctors. After the detailed assessment you will get the personal plan to follow as you stay. The goal of the resort is to make you feel reborn. You will definitely get this experience if you stay in one of these resorts!