Best luxury cruise ships
 
It is hard to choose the hottest cruise ship, especially when so many of them appeared. This review will probably give a glimpse to you of what happening in this cruising industry and what cruises are offered to tourists who dream of unforgettable vacation.
MS Quantum of the Seas is a lead cruise ship of the Quantum class of cruise ships. It was delivered to Royal Caribbean International in 2014 and is sailing from China. Last summer the ship began to sail from Shanghai to Japan and Korea. The cruise ship was adapted for Asian market. The Customer asked to increase the size of the casino and add high-rollers room. The menus were also modified and now more Asian food is found there. "Kung Fu Panda"-themed noodle bar appeared on the pool deck.
There are 16 passenger-accessible decks on the cruise ship. The half of them has balcony staterooms that overlook the ocean. There are "virtual balconies" in the rooms – floor-to-ceiling 80-inch high-definition TV screens with live views from the outside of the ship.
As for the activities, there is a surf simulator, and a rock climbing wall for sport-minded people. The sky-diving simulator is set in a vertical recreational wind tunnel. The "NorthStar" observation tower is a special treat for vacationers who love the view from there! This is a glass-walled capsule lifted up by 41-meter crane that looks like a huge mechanical arm. It reaches height of 300 feet above the surface of the sea. Up to 14 guests can enjoy the ride.
There is an outdoor pool with a huge video screen, indoor pool "Solarium" for adults, kids' water park "H2O Zone" with wave pool and whirlpools, the "Adventure Ocean" kids club and an indoor pool supplied with retractable roof. There is a spa and fitness center as well. Amuse yourself in a Broadway-style "The Royal Theater" and explore the two-story "Royal Esplanade".
Supplied with numerous dining options, the vessel is one of the most ambitious ships at present.
MS Anthem of the Seas was delivered to Southampton, its first homeport, in April, 2015. Then it departed to France and Spain and spent the whole season cruising in Europe, Mediterranean and the Canary Islands. Now it operates different itineraries to the Caribbean and Bahamas from Cape Liberty in Bayonne, NJ, US. It will also sail to Canada this year and will become the biggest cruise ever that entered Canadian port. It offers, for the most part, the same activities described above as this is also the ship of Quantum class.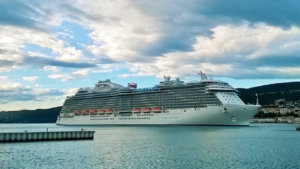 It is also worth mentioning Regal Princess unveiled two years ago that can boast of numerous attractions and amenities found in megaresorts only. Regal Princess expanded pool deck and it transforms into a stage at night for a water and light show. It becomes a performance venue with 280 seats.
This unmistakably elegant ship has 1438 cabins, 81% of which have balconies. It is better to book a balcony stateroom if you want a room with ocean view. Some cabins are wheelchair accessible. There are 40 suites on a ship: Penthouse Suites, Premium Suites and Owner Suites. Suite passengers get upgraded amenities.
There are numerous dining options for the passengers onboard. One can dine in one of the main dining rooms: Symphony, Allegro and Concerto. Free traditional dining option can be found in Allegro only.
Dining options for fee include Sabatini's, Ocean Terrace Seafood Bar, Gelato and many others.
The corridors of central Piazza are huge and seem endless. There is retreat pool for adults only, song and dance shows in Princess Theatre that accommodates 1000 people. There is TV studio Princess Live! showing broadcast-ready events, concerts and shows.
Enjoy incredible view of the ocean on the SeaWalk, 28-feet of extended glass-paneled walkway with incredible lighting at night. Look at pristine waters of the ocean at day and come for a romantic stroll at night.
Regal Princess cruises to the Caribbean, Baltic Sea, Transatlantic, Canada and New England.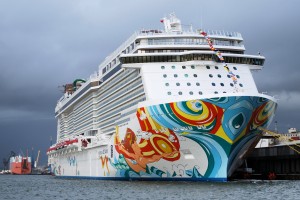 Norwegian Getaway is a cruise ship of the Norwegian Cruise Line, which was delivered in 2014. There is a Grammy entertainment venue, "Illusionarium", an entertainment venue that shows magic and illusion performances, water park with slides, twister slides and freefall drop. You will love its Waterfront promenade. There are 28 dining options you can choose from to enjoy culinary delights. The cruise ship operates Bahamas and Florida cruises, Caribbean, Transatlantic and Europe cruises.