What to do in Shanghai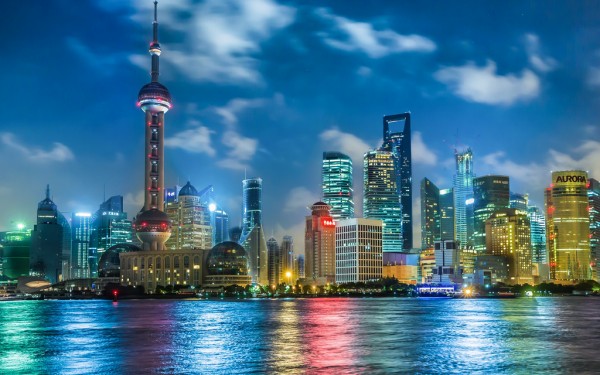 You will love to see the magnetic levitation train in Shanghai that takes tourists from the international airport to the city. The speed of the train that is called Maglev is 430 km per hour. This route was made not for local people, just to impress the guests of the city.
If you are fond of picturesque scenery, then you should visit Shanghai beautiful waterfront, which is called The Bund. You will be able to take many impressive photos there. There are a lot of skyscrapers that make the skyline at this place such as Shanghai World Financial Center, Oriental Pearl TV Tower and others. Shanghai World Financial Center looks like a huge bottle opener. This is one of the most recognizable landmarks of this city. Sip cappuccino in the bar of the 94th and 97th floor and enjoy the view of jaw-dropping panorama. The Sky Walk is the highest observatory, which is located on the 100th floor.
Shanghai has its own Venice – Zhujiajiao. This ancient water town with canals, bridges and very narrow streets attracts guests of China with its charm. The person feels cozy here, probably, thanks to its little cafes or amiable boatmen who offer services to you. The place is open for business so you can do shopping there and buy souvenirs.
Those who want to learn more about China, should visit Shanghai museum that is considered the best museum in China as it has amazing collection of ancient artifacts. The tourists love watching its incredible jade carvings and ornate calligraphy. The shape of museum is amazing too. It looks like a huge cauldron.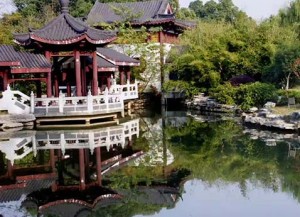 The Yuyuan Garden that appeared in Shanghai in the 16th century is a beautiful retreat among urban landscape. It's pleasant to walk there among traditional pagodas, decorated bridges, exquisite jade rocks and other spectacular sights.
Visit the Longhua Temple, the oldest and the biggest religious complex of Shanghai, to listen to the monks' evening chants. A stunning 7-story pagoda is especially beautiful during the peach blossoms. This sacred place attracts crowds of tourists.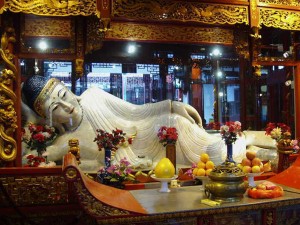 You will also love Jade Budda Temple with its numerous statues: three golden Buddhas, gods of twenty heavens covered in gold and golden statues of arhats and teachers. Visit the public restaurant on the second level of the eastern side of the temple to try delicious noodles five yuan per bowl. There is also an upscale restaurant with more expensive dishes upstairs. Monks and volunteers of the temple eat in the private restaurant of the complex.
Visitors go shopping to Nanjing Road, a some kind of 5th avenue in New York. You can find retailers there from different parts of the world.
Those who have some medical problem can try Chinese acupressure. There are even medical tourism groups that come to China for it. Many patients come to China for acupressure treatment and find this experience very rewarding. There are a lot of massage parlors in Shanghai but not all of them are so good as "Green Massage" near Huaihai Park.