What to do in Hawaii
If you are looking for best of the best in the entire Hawaii, then you should read this selection below that can be a perfect guidance for your trip.
Hiking in spectacular places like Na Pali Coast
Na Pali Coast is a legendary place. This is the best backpacking place in the country, so if you are fond of hiking, you can take advantage of this route. This breathtaking coastal range crashes abruptly into the ocean. Picturesque unspoiled nature with lush valleys looks spectacular. You will see emerald green pinnacles that stretch 17 miles along the coast. There the panoramic views of the ocean open in front of you.
Whale watching
Do you know that humpback whales are real acrobats? Their breaching is spectacular! They launch themselves into the air, leaping completely out of water at times! They show back flops and even spin and display their power and beauty to lucky vacationers. If you want to see a show of lifetime, you should come here!  These massive mammals come from Alaska for mating and nursing their young. Maui whale watching tours will reveal this wonder of nature for you. The whales' peak season is from January to March.
Explore Volcanoes National Park
Hawai'i Volcanoes National Park will show an amazing world of active volcanoes and Hawaiian culture. There you can understand how Hawaiian Islands appeared. You can visit it by car as other transport is not allowed there.
If you have 1-3 hours for a trip in Hawai'i Volcanoes National Park, then you can go to Kīlauea volcano. You will have to travel via Crater Rim Drive, which is an 11-mile road that encircles the caldera. The road passes through tropical rain forest and the desert, so you will see picturesque views on your way to volcano. The East Rift and coastal area of the Park can be explored if you have about 5 hours for this trip. Chain of Craters Road that leads to it, end at the place where lava crossed the road in 2003. Lava flow activity is changing often and it can happen right in front of you!
Hawaii Pu`u Loa is a sacred place of people who live in Hawaii, where you can find 23,000 petroglyphs.
Take a mule ride to Molokai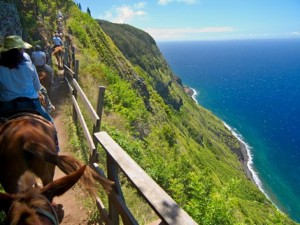 You will like a mule ride to Molokai, which is a historic road. The trail is not that easy due to Molokai's steep north seashore cliffs. The dirt trail is about 2,9 miles, and there are lots of sharp switchbacks on your way. At the end of your ride you will come to Kalaupapa National Historic park with its tragic history. Kalaupapa is the place of exile for people who had leprosy, incurable, highly contagious disease (as it was considered then), to prevent spreading the disease among healthy people. About 10,000 people were sent to that place in the United States.
Snorkel with massive manta rays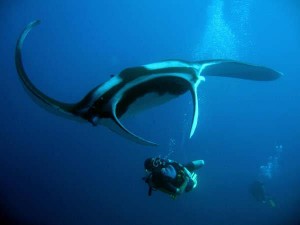 You can also dive or snorkel with massive manta rays that can weigh up to 3,000 pounds (1360 kg). The mysterious manta ray is the biggest fish of the ocean. Its wingspans can reach 20 feet. Though they look intimidating they are actually rather friendly. They feed on plankton and do not have stingers so they are not dangerous for men. The best place to spot mantas is the Kona Coast. By the way, you can see the show even without swimming. At night they are attracted by spotlight, so if you stay, for instance, in the Mauna Key Beach Hotel you can see these huge creatures. The show is arranged by certified scuba divers and snorkelers.
This is incredible adventure that you will remember long so it is worth taking it! Such tours are held all the year round.
Watch incredible sunsets
Watch incredible sunsets at the North Shore of Oahu. Choose one of the iconic beaches and enjoy the view such as Haleiwa Beach Park.
Try local dishes
You can also kayak, surf, play golf, lie in the beach and try national dishes such as poke – marinated fish of different kinds. You can go to Kauai's Ishihara Market for it.