The best resorts in Hawaii
Going to Hawaii travelers want to take the most of their journey. Choice of resort plays the decisive role in it therefore you should select only the best resorts in Hawaii.
Koa Kea Hotel & Resort is a luxury hotel on Kauai. It can deliver the experience of sophisticated beauty of the ocean. There are 121 rooms with balconies in it so all guests can hear the waves. The resort is located on famous Poipu Beach. The resort is not big, but it has everything necessary for perfect rest: sophisticated restaurant with sashimi tasting menu, a swimming pool, and a cove for honeymooners who look for privacy. The rooms are very comfortable. Here you can find the natural essence of luxury adventure.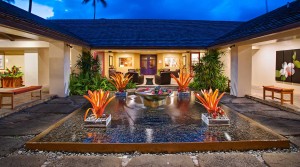 Travaasa Hana with 90 rooms is even smaller than the precious resort but also provides superb service. This is a unique place as nothing connects you with big land there. The scenery is breathtaking in it so you can enjoy the beauty around you without being distracted by anything. The resort welcomes beach lovers. The shuttle will take them to the beach, which is just 5 minutes away from the resort. You can also relax in the pool, play tennis or croquet. Enjoy professional spa treatment; overlook the ocean and dishes prepared of Maui-grown produce and local fish.
Mauna Key Beach Hotel was once the most expensive hotel. This was in 1965 when Laurance S.Rockefeller discovered the resort. Now there are many resorts that surpass Mauna Key Beach Hotel in luxury but this place is still charming. The hotel with 258 rooms has 5 restaurants. The golf field and Kauna'oa Beach are close. The renovated rooms have private lanais, flat TVs and spacious baths.
Wailea Beach Villas with 98 rooms is located on gated 11-acre residential property. There are big penthouse suites with 2 or 3 bedrooms and villas there. The size of villas varies from 1900 to 3800 feet. Stay at villa with a balcony and a spectacular ocean or garden view and a private pool. There is no restaurant there but food can be ordered from Longhi's, or you can go to one of the restaurants in the vicinity.
Amazing oceanside elclave called St. Regis Princeville resort is an ideal destination with a great interior ambience. It is located on 9000 acres. Choose the room with a view of Makana Mountain, Hanalei Bay or the garden. There are versatile activities at the disposal of guests who stayed at St. Regis Princeville resort such as kayaking, snorkeling or surfing. The upscale hotel offers beautiful luxury accommodations with sophisticated design, where each detail is well-thought: curved leather banquettes, combination of colors, custom furnishings, embroidered linens and etc.