20 interesting places to visit in Colombia and Venezuela
 
How to decide, which destinations are the best when you travel in Colombia and Venezuela? There are so many fantastic places in these countries. Probably, this article will help you to narrow down the search.
If you look for the entry point in Colombia, Cartagena can be a great option. There is everything in this city what is expected by tourists in a tropical country. You will love its old architecture too. A downtown area – old city Cartagena is still surrounded by a wall, which used as a means of protection against the pirates in the 16th century. It sounds exciting and adventurous for us now, but people who lived in the Middle Ages were not happy at all about it.
A stunningly beautiful tropical paradise of Colombia – Islas de Rosario are located about 100km from Cartagena. These are the coral islands, which are a part of the archipelago near the coast of Colombia. In 1988, this place received the status of a national park for protection of coral reefs. Now tourists from all over the world come there to enjoy turquoise blue, crystal clear waters and visit open-sea oceanarium.
If you look for extraordinary activities, volcano dipping is a great option. This is a new kind of tourist attraction just an hour's drive from Cartagena. The crater is full of volcanic mud where people bathe for a few dollars. Up to 15 people can be accommodated in the crater at a time. If you wish, the attendants can massage you and help to remove the mud in the lagoon near the crater. I would call it a spa but its therapeutic effect was not proven. However, one has to wash thoroughly to take mud off. Probably, that's the point! The skin becomes silky after so much work is done.
If you want to spend the first week of a year in an extraordinary way, you should go to the city of Pasto where the Carnaval de Negros y Blancos is organized. It looks like complete madness! It is hard to describe it – one should be there to understand. There is something intoxicating in all that foolishness that grips the country with all its non-stop colorful parades, music, dancing, drinking, powder, paint and foam. It turns into a giant kid's background 6 days of the year.
Colombia's second biggest city is Medellin, the place where drug kingpin Pablo Escobar lived. 3 years ago it was chosen "Worlds Most Innovative City". It does not look the way it was during the cartel days. All spheres of life are well-developed in Medellin now: arts, culture, education. Everything seems to serve the person in modern city.
Climb El Peñón de Guatapé – the Rock of Guatape, worshipped by the Indians in the past. Now you can climb the stairs and get to the top to see a stunning view around.
Colonial buildings and atmosphere of a small city from the pages of Gabriel Garcia Marquez novel can be enjoyed in Mompox. You have a chance to take a look at a laid-back life of common people in Colombia.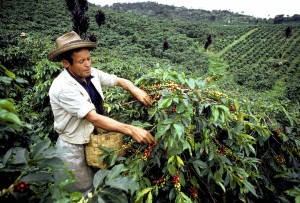 Colombia is the place where the best quality coffee is grown so you can go to the coffee region that is called Coffee Triangle to see the production process.
Do not miss the Athens of South America – Bogota and take a cable car journey into the mountains at Cerro de Monserrate.
One more glimpse to life in Colombia can be obtained in Cali with its tropical party vibe, exciting night life and catching salsa spirit. This is the World Capital of Salsa where many discothèques are dedicated to salsa music. Take dancing classes and visit Festival Mundial de Salsa, which is held there in September. 5000 young dancers come to Cali to take part in competition. This is the place where salsa rules.
Salsa parties can be found not in Cali only but throughout Colombia, for instance, in clubs of Bucaramanga and in neighboring country Venezuela. For real and authentic feel of a Latin party go to Colombia, and for bigger diversity – to Venezuela, which features ethnic variation of the region. Salsa dominates in the dancing scene of Venezuela, but other rhythms are popular as well such as merengue and bachata. Joropo is Venezuela's national dance. Also, the pulse of reggaeton is felt strongly, along with bossa nova, jazz, Afro-beat music, reggae and rock. The most popular tourist routes include Caracas, beaches of Inla de Margarita, the tallest waterfall Angel Falls. Venezuela's many cave systems are also worth your attention. Lovers of nature can spot amazing wild animals in the Parque Nacional Henri Pittier and pink flamingoes in Cuare Wildlife Refuge. If you've never skied in the tropics, thehighest Andean peaks of the Cordillera de Mérida give this chance to you. Those who want to explore life of indigenous people are invited to Little Venice where summer never ends.