10 reasons to visit Peru

Machu Picchu is the most famous tourist attraction and one of the Seven Wonders of the World. Cuzco and Machu Picchu attract crowds of tourists who come to see Inca ruins. You should also know that sale of tickets is limited – just 2500 people can enter Machu Picchu a day.
Take Inca Trail hike to get extraordinary experience in Peru
Well-known Inca trail is one of the most fascinating treks. Usually 4-day trek is advised for tourists. Porters in red ponchos will accompany you on the trail and help with baggage that should not exceed 25k. The cost of Inca Trail can vary from $450 to $2500 in case you choose private service. You should take into account that Inca Trail is not easy. There are many stone stairs on the way and the road is long enough. It can be challenging in spite of porters' assistance.
Do shopping, enjoy beauty and cultural sights of Lima
Lima is the largest city of Peru. Cuzco is the former capital of the country and the travelers flock there first, but Lima is no less wonderful. Explore spectacular Miraflores district and enjoy its stunning rocky beaches, beautiful gardens, excellent museums and great shopping areas.
Try Ceviche and other local culinary delights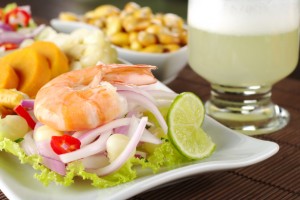 Lima can offer eclectic culinary delights for tourists. Some people consider Peru a gastronomic center of South America. There are many award-winning restaurants in it so it became a mecca for food lovers. The most famous Peruvian national dish is Ceviche. You should not skip the opportunity to try this seafood dish during your trip in Peru.
Surf on best Peruvian beaches in Mancora
Mancora can be a great destination if you are tired to explore cultural and historical sights of Peru. This is a little beach town with best beaches and lots of water activities such as surfing, swimming and etc. The South Beach (to the south of Mancora's pier) – it is too crowded even in low season. Nice surprises can expect you on the Main Beach. You can see pelicans, crabs, dolphins and even Humpback Whales there.
There you can also find a lot of restaurants, street markets and big number of water activities for lovers of active rest. Try fresh seafood in one of the restaurants in Mancora such as Donde Teresa which was founded by the most recognizable chef of Peru and La Sirena d'Juan, where you can try tiradito (Peruvian sashimi).
Buy handicrafts from friendly locals and look at their floating islands
If you want to meet friendly locals, you should go to the Uros community on the Lake Titicaca. This is the biggest lake in South America and the most navigable lake in the world. A tribe of Uros lives on artificial islands made of reeds that need to be replaced regularly – the reeds rotting is always under way.  The locals have to work over it every 2 months. Their reed boats also look nice!
 Explore Peruvian Amazon
Peruvian Amazon covers 60% of the area. Nature enthusiasts can get pleasure from incredible biodiversity of wildlife in Peru. Have a look at the untouched rain forest and enjoy the beauty of Amazon.
Visit Huacachina – Peruvian oasis in the desert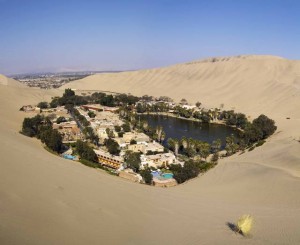 Huacachina is a village in oasis that appeared around the lake in a desert. The lovers of such exotic activity as sandboarding and dune buggy like to come to Huacachina.
Explore the mystery of ancient Nazca lines
About 700 geoglyphs in Peru became of the part of world's UNESCO heritage. Some of them are several hundred meters long so tourists need to get on plane to see them.