Fiji – luxury in Pacific, top 5 hotels and what to do in Fiji
Fiji is associated with palm-lined white sand beaches and turquoise blue lagoons for relaxation and luxury rest. This archipelago includes 332 islands, but only 106 of them are inhabited always. However, if we include to this number even smaller islets then the total number increases twice. The archipelago offers idyllic islandscapes one can find in the Southern Pacific area. The place is often called the friendliest in the world.
The biggest isle of Fiji is Vitu Levu. There the capital of the country Suva is located. Suva and Nadi, which is the tourists' capital, attract a lot of people from different parts of the world, who come to Fiji to explore interesting colorful past of the region, its Indian legacy and rich culture. Underwater sightseeing is one of the most captivating kinds of entertainment thanks to picturesque marine life.
The Fiji's islands resulted from volcanic activity. Fiji belongs to mid-range priced destinations. There are a lot of world class luxury resorts located on separate islands that attract wealthy celebrities.
Nadi, Denarau Island, the Coral Coast, Mamanuca Islands are the most popular destinations in Fiji.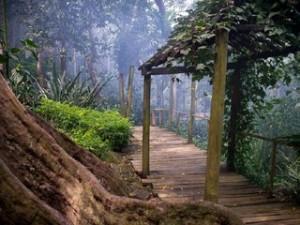 Garden of the Sleeping Giant, Nadi, can become a pleasant discovery for you, where horticultural secrets are preserved. You can also visit the Fiji museum in Suva that presents some relics of indigenous cultural history of the archipelago.
Choose Sigatoka Jet Boat Safari to have a look at authentic Fijian villages. Scenic Helicopter Flights will help you to see the area with its impressive spectacular waterfalls, islands and bounty beaches from the air. Or you can even take tandem skydive, a parachute ride that continues up to 8 minutes, which is very thrilling experience.
Other activities available in Fiji are whitewater rafting, kayaking, golf and others.
Fiji is a romantic getaway. The meals are not so expensive. You can find a lot of small restaurants in every town. Lamb, pork and Fiji style fish is often served in them.
If you want to have a dream Fiji vacation, you can stop at one of the following resorts.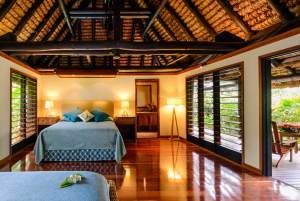 Villa at the Jean-Michel Cousteau Resort presents luxury accommodation in the South Pacific. It features king bed suite, private infiniti pool and a walled garden for your privacy. There is also Jacuzzi, outdoor shower and waterfall for guests of the villa. Try excellent dishes of the sumptuous Fijian cuisine right on the pier, while musicians perform for you!
Unparalleled level of luxury can be expected at Laucala Island Resort, which brilliantly combines sandy beaches, with its tropical rainforest-laced landscapes. There you can find 25 Fijian-styled villas located among coconut plantations, which contrast untouched wild nature of the jungle.
4 villas are on top of Nawi Mountain in the central part of the island, from which captivating panorama views and spectacular sea views are available. There is also overwater villa above the lagoon, to which you can arrive at your own yacht. However, peninsula villa exceeds all expectations. This is the best place if you look for undisturbed privacy.
Taveuni Island Resort is a small private resort for 12 privileged couples only. It provides secluded retreat where you will feel harmony with nature. A famous dive destination is located there. This resort can accommodate only 28 visitors. This destination is perfect for honeymoons. The place is also known for exceptional diving.
Shangri-La's Fijian Resort and Spa is located on a private Yanuca Island. Enjoy panoramic spectacular views from your spacious balcony. High quality spa provides pampering treat for guests. Feel legendary Asian hospitality at this place. The best beaches, crystal clear water, diverse flora and fauna expect you there.
There are a lot of superb venues that contribute to the ideal vacation.
Westin Denarau Island Resort presents 5 star facilities, which are designed to demonstrate rich cultural heritage of the archipelago. The resort is located on Denarau Island. There are 243 guestrooms and luxury suites there. Highly developed tourist infrastructure with pools, tennis courts, restaurants and bars guarantees perfect rest. You will feel pampered after visiting the award winning Heavenly Spa by Westin.