American luxury brand Rodarte

Rodarte is an American luxury brand that was founded in Los Angeles in 2005. Kate and Laura Mulleavy created innovative and conceptual brand that presents the blend of haute couture and femininity. The spirit of California is also felt in their creations.  The label Rodarte was named after the maiden name of their mother Rodart.  The label is rather new but it managed to score many honorable awards. The tenacity and talent of sisters made them famous soon. Kate and Laura Mulleavy have received numerous accolades and industry awards for multilayered garments since the inception of their line. One of the awards was given for the ballet costumes created for popular film "Black Swan" with Natali Portman starring in it.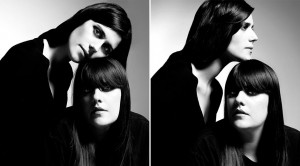 Using old school techniques, Kate and Laura design sophisticated attires with intricate hand-stitching. The sisters did not get special education in fashion. One of them studied art history and the other English literature. Is it a fresh look fashion industry lacks so much? The art of dress construction was studied intuitively by them as they dissected frocks of famous fashion gurus. Now Rodarte is loved by celebrities. Keira Knightley and Kirsten Dunst are famous followers of the brand.
Kate and Laura Mulleavy outwardly do not exude fashion. The designers do not create frocks for themselves. They never wear own gowns as they feel better, as they explained, being distant from what they do. It helps them to preserve fresh look on their own works and enhance the result. Kate and Laura think that their creative talent would be reduced to the things and style they want to wear and they would not be able to present such comprehensive outlook as they can do it now.
The Mulleavy sisters are almost never apart. At least, people surrounding them rarely see them separately. Both have beautiful dark eyes, glossy brown hair. The skin is pale, supposedly, after their father of Irish origin (the mother is Italian-Mexican). Laura has sharper features. Kate has a rounder face, but in spite of these differences they work synchronically as if intuitively feeling each other. They share much: one e-mail account, one phone and one passion in life – fashion. During the interview they often finished thoughts of each other.
They do not try to be in the whirlpool of fashion like many famous designers do, when they leave their native places for Paris, New York, Milan or London. They modestly do their work in Pasadena. Their clothing is regarded as ready to wear, but the Mulleavy sisters use haute couture details as if they are "building" a garment. Diverse textiles and adornments are used for creation of dresses. Complicated hand techniques are applied so work takes much time. Along with other adornments, they decorate frocks with vintage Swarovski crystals. With such approach, they are not able to provide mass production. Anna Wintour liked their personal approach and advised them to keep it that way. Such support was very encouraging. This was the best compliment for Kate and Laura Mulleavy ever made.