Top 5 best airlines with business class (British, Swiss, Luthgansa, Ethiad, Virgin Atlantic)

People who go often on business trips, need additional comfort to feel refreshed on arrival. There is usually no time to relax getting ready for important meeting therefore excellent service in the sky can compensate lack of this opportunity. Airlines with business class are thoroughly studied to determine, which options are the best.
British Airways is a British company founded in 1974 with hubs in London Heathrow Airport and Gatwick Airport. The company has a mixed fleet of Boeing and Airbus aircrafts, which serve 160+ destinations around the world.
The distinctive feature of the business class is that it gives access to business lounges of most airports. For faster check-in the company provides separate check-in desk and you do not have to wait for check in a crowd with other passengers.
There is special configuration of seats with middle seat not used. You get a table on that place instead that folds up from below the seat. You can get entirely flat bed. There is in-flight entertainment for relaxation during the flight. The food is great and service is friendly.
Virgin Atlantic is a British company founded in 1984. It is second biggest UK. In addition to hubs in London Heathrow Airport and Gatwick Airport, it also has an operating base at Manchester Airport. Virgin Atlantic offers fully flat beds with separate mattresses for comfort. The offers are great for solo travelers but convenient ottomans allow you share the dinner with a partner.
When the customer has to wait for departure, he is provided with exclusive lounges and exquisite menus. There are special private rooms, where the clients of Virgin Atlantic are invited. There is personal attention to every client and extras aimed to pamper the clients during the flight.
Swiss First Class airline provides the best service for customers who like to travel in comfort feeling relaxed at that. The main goal is the company is full satisfaction of the client that is reached with priority boarding, higher limits on baggage and a range of extras you will, certainly, love. Long-haul flights are easier in the armchairs, which can also be turned into flat bed.
Impeccable catering delivers exclusive gourmet experience. The customers can order the dishes and beverages a la carte at any time. The meal includes a selection of starters, main courses and desserts. Try Swiss savoury culinary delights prepared by top chefs. There are refined fresh dishes with taste of Switzerland. Asian flights of first and business class performed by Swiss provide exquisite menu of exclusive head chef Florian Trento who promise culinary surprises. The menu changes every 3 months.
People with food allergies, religious background requiring kosher or hindu meal, vegans, vegetarians and others can order special dishes during the journey. You can get a pillow, cover and pyjamas to have normal rest and arrive fresh to the airport.
Lufthanza is a German airline founded in 1953. It is largest in Europe and operates 215 destinations all over the globe.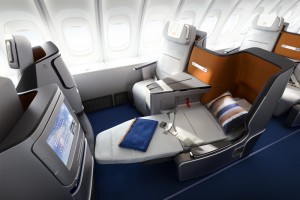 It was state-owned enterprise until 1994. The company has a mixed fleet. Business class seats can covert flat beds, 2 meters long. Lufthanza offers business class lounges in the airports.
You can relax with a glass of champagne or exclusive wine. Try freshly-brewed coffee flying above the clouds and enjoy the service of the team onboard.
Ethiad is a national airline of OAE and its second biggest carrier after Emirates. It has a hub in Abu Dhabi International Airport. Using the fleet of 105 aircrafts, Ethiad operates 120 destinations.  It performs 1000 flights a week. Ethiad offers luxurious amenities, which is a usual thing for the airline of the rich-in-oil country.
There is sufficient room in a privacy shell to feel comfortable. The seat is easily transformed into flat bed and person can have good rest and relax. Business class cabins can be of two types: in widebody and narrowbody aircrafts. Full flat bed with size over 6 inches is offered in widebody aircrafts.  There is also 15-inch television, in-built massage.
Comfort in the business class is the issue of efficacy. It determines the performance of employees, helps to conclude beneficial contracts and affect the success of your company. Is it worth paying for it? It is up to you to decide.