Guide for shopping in Italy  
If you want to buy quality things at the best prices in Italy, you should read this guide before setting off shopping. Italy's outlet malls can be a good solution for you. They are scattered around the country. Outlet shopping malls are located on the outskirts of big Italian cities such as Rome, Florence and Milan. It means that should plan the whole day for shopping.
If you go to Florence, you can go to the Mall, where you can buy such brands as Balenciaga, Alexander McQueen, Dior, Burberry, Gucci, Fendi, Armani, Pucci etc. it is easier to get by car there. It takes half an hour. The road by train takes 35 minutes (Santa Maria Novella – Rignano sull'Arno), + 5 minutes by taxi to get to the spot. The other alternative is public bus.
Space Factories Outlets in Florence offer Prada line stories. There you can also find Miu Miu, Helmut Lang and Prada Sport. It takes 50 minutes to get there from Florence by car or 35 minutes by train and then by taxi (5 minutes).
You can also go to Fendi, where only this brand is offered. The road from Florence takes 35 minutes by car or by train. If you choose the latter you will have to walk for 10 minutes from the station.
Dolce & Gabbana outlet offers two stores of branded clothing. Only D&G things are sold there.
If you decide to choose luxury shopping without leaving the city then you should go to Via Tornabuoni. All noble families have been shopping here since the 14th century. There are boutiques and luxury stores of prominent designers there. The jewelry shops are also great but not everybody can afford shopping there. Gucci, Pucci, Prada, Burlgari, Cartier, Ferragamo have their boutiques on this street.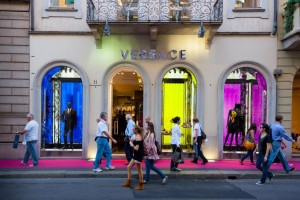 Other streets of Florence for luxury shopping:
Via della Vigna Nuova with such boutiques as Monteblanc, Lacoste, Etro.
Via del Parione
Via Roma
For collectables and antiques you should go to:
If you travel to Milan, then Serravalle Designer Outlet includes 180 stores with the collections of Guess, Vercace, Trussardi, Calvin Klein, Dolce & Gabbana. The road takes an hour by car and an hour and a half by train.
FoxTown Factory Store includes 160 stores with clothing and shoes from Prada, Hugo Boss, Valentino, La Perla, Dior, Armani, Gucci, Dolce & Gabbana etc.  You can't get there by car without a yearly permit. Come to FoxTown Factory Store by train and by bus from Milan.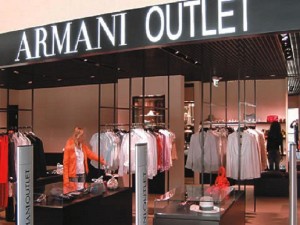 Il Salvagente near Milan has a huge choice of brands that were collected in one big store. A big selection of brands can be found there, for instance, Cavalli, Emillio Pucci, Moschino, Burberry, Barenciaga, Albera Ferretti, Marc Jacobs, Chloe, Gucci, Dolce & Gabbana and so on. Public buses from Milan can take you there.
Come to Armani outlet to buy Armani only. It takes 40 minutes to come there by car. Trip by train takes also 40 minutes but you will have to take a taxi and spend +15 minutes on the road.
Shooping for big names in Milan you should visit the boutiques on:
Via della Spiga
Via Manzoni
Via Sant'Andrea
Via Montenapoleone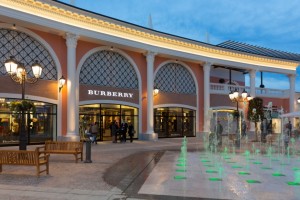 If you are in Rome, I can offer Castel Romano Designer Outlet with 140 stores. It takes just 20 minutes by car to get there from Rome.
Brands in Castel Romano Designer Outlet:
Roberto Cavalli
Patrizia Pepe
Furla
Valentino
The other alternative is Valmontone Outlet. The road from Rome by car takes 45 minutes.
Brands in Valmontone Outlet:
Sisley
Calvin Klein
Intimissimi
Baldinini
Clarks
If you do not want to go to the outlets outside the city, you can shop in Rome. The famous shopping streets are Via Borgognona, Via Condotti,  Via Frattina and many others depending upon your needs.