Feel charm of winter in Gstaat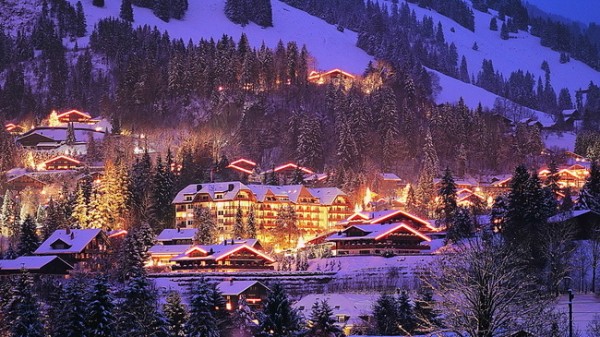 If you want to get to winter fairy tale then you should go to Gstaat, a wonderful village in Switzerland. You can see charm of winter in Gstaat. It is surrounded by Alps. A picturesque castle, located on a hill, overlooks the village. It is one of the distinguishing features of the place. It looks great at night. The Palace Hotel is illuminated beautifully, while the lights going from the village chalets contribute to this beauty.
This charm is not accidental. It is allowed to build the buildings only in chalet style here. The buildings should have three stores maximum at that. Higher buildings are not allowed.
If you want to have excellent skiing in Switzerland, you should come to Gstaat that provides skiing between one thousand to three thousand meters above the sea level. Gstaat offers 220 kilometers of runs. The quality of snow is superb there. About 60 % of slopes are equipped with snow canons. This is one of the most diversified regions for winter sports in the country. Gstaat offers one of the longest seasons for skiing, where the sports lovers can enjoy pleasures of winter sports from October to May!
The place features Alpine authentic luxury. It is considered one of the most famous destinations in Switzerland that is still understated a little.
The slopes are perfect for beginning skiers. There are also special family mountains.  When the survey of Swiss resorts was made, Gstaat was acknowledged one of the safest places.
It is a perfect place if you want to spend vacation with your family. There are very attractive packages for families. Children can get safe environment and many winter adventures here! Fun-filled holidays are guaranteed. A big choice of outdoor activities include tobogganing, husky rides, ice-skating, horse carriage rides and even igloo building.  There are nursery slopes where children up to 9 years old can enjoy skiing for free. The professional supervisors stay with children.
There are luxury hotels in Gstaat that deliver ideal service. The town lies at the intersection of the valleys in the Alps.
The advantages of Gtaat include:
You can see a traditional village in Gstaat. There is no traffic in the center so you will not feel as in the town. The locals make their own cheese.
The place is perfect for intermediary skiers who want to enjoy long run.
When you buy a lift area ticket, it covers, as a rule, the biggest part of slopes.
There are shopping opportunities in Gstaat. Even swanky shops can be found here.
There are a lot of après-ski activities.
There is nothing surprising that global elite loves this village. Madonna, George Clooney, Valentino Garavani come to have rest here.
The hoteliers provide luxury accommodation and do not want to diversify business, inviting travelers on a budget. The person who wanted to build a three-star hotel outside Gstaat faced much criticism. The place is a magnet for wealthy people who feel that this place is exclusive. They do not want to see bustle, created by inexpensive tourist options.
Now Gstaat can be called an enclave for super rich people. Affordable holiday is almost excluded here.