Top 5 Ski Resorts
Aspen is the most famous ski resort that offers unique skiing experience and fantastic views of the postcard-ready region. It is known for Highland Bowl known for most intense skiing. Half of the terrain is classified as the 'most difficult' and 'expert'. It is great to relax in Cloud Nine Alpine Bistro with taste and feel of alpine hut. After skiing the person can come here for a fondue and celebrate the fresh tracks.
It is supposed to believe that travelers come to ski resort for skiing. You will be surprised to learn that it is not so at all. There are other activities here as well, for instance, eating out, parties, yoga classes taking place at the Sundeck atop Aspen Mountain. Relax in the Little Nell's mobile champagne bar the Oasis or other places.
As for accommodation, we recommend you to pay attention to the following hotels:
Banff Aspen Lodge (lovely, modern rooms and convenient location);
The Limelight hotel (great staff, nice location and reasonable rates);
The Innsbruck Inn (magnificent atmosphere, good service).
Mountain Collective Pass that costs $349 is offered in Aspen. It gives you 14 days of use and 50% discount for lift tickets. The same pass can be used by skiers coming to Jackson Hole.
Jackson Hole, Wyoming, is the most foremost resorts of Norm America. It offers fierce terrain so it is quite challenging to ski there. Jackson Hole was called in this way because of the holes on this landscape. There are low-lying valleys among the mountains looking like holes. The terrain is difficult and is not recommended for beginners. Intermediates and experts come to ski there. The village is charming and the scenery is fantastic.
You can buy a season pass for skiing and riding. Non-transferrable individual J-cards are offered as well. The price depends upon the number of days you are going to use it. In this way, one-day J-card costs $109, which is the cheapest alternative. You can stay in very nice Teton Mountain Lodge & Spa that features perfect location, excellent service and spacious comfortable rooms with a mountain view.  Alternatively, you can enjoy comfortable stay at Terra Jackson Hole Hotel with variety of amenities, a pool, great staff and beautiful view from the balcony.
There are excellent restaurants In Jackson Hole, shops and walkable sideways. Have a nice time in the off-hill restaurant Villagio Osteria with illuminated wine cellar and wood-fired oven that creates cozy atmosphere.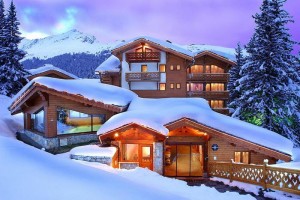 The Courchevel Ski Resort is a resort in France that provides exceptional skiing experience. The resort is located in in a magnificent Trois Vallees translated as Three Valleys. Courchevel includes 4 separate villages. Pistes, lifts and roads connect these villages with each other. Free bus can take you to the other village. Though the resort is fashionable and modern, it has an old rustic spirit. It is considered that the resort is pricey. This is one of the favorite places of Russian oligarchs. But, in reality all is expensive in just in one village (Courchevel 1850). The other villages have normal, affordable prices. As for the holiday rentals, Luxury Courchevel Apartment will cost you about £1100 per week.
Verbier is a resort in Switzerland that is referred to the biggest ski area. It takes 4 valleys.  Sporty youth mainly come here. One of the main advantages of this place is that it is easily accessed. It takes a couple of hours to get there by public transport from the airport in Geneva. Verbier is loved for cosmopolitan atmosphere, high quality service and amazing landscape. The price depends upon the place where you stay.  This ski resort is definitely not for ski beginners. The recommended hotels are comfortable Hotel Vanessa, La Cordee des Alpes with friendly staff and central location, «W Verbier» with one-size-fits-all approach that is adjusted to individual demands of the clients.
Cortina d'Ampezzo is an Italian resort that has 140 ski runs. The pistes are 50 miles long. It is considered a hard-core ski resort as 70% of Italians who come to ski do not even try to go to the slope. There are many other places here to enjoy besides skiing. The guests of the resort go to the gourmet restaurants to try the casunziei (ravioli with beetroot) and canederli (dumplings with bacon and spinach). Cristallo Hotel Spa & Golf is great for romantic or family vacation> Family packages, for instance, are offered at 600 Euro. For warm homely atmosphere rent Chalet Cortina d'Ampezzo – a nice house near the slopes.