Best hotels and amusements in Miami

There are over four hundred hotels in Miami that can meet the demands of any customer. We offer only fivestar luxury hotels. You will never want to leave Miami if you stay in one of them.
Classic luxury
The Biltmore Hotel Coral Gables tops the list as it was recognized a National Historic Landmark in 1996. It started working in 1926 and was the tallest building then. It also had the largest swimming pool, where Johnny Weissmuller (the actor who played Tarzan) worked as a swimming instructor. Besides, there is an 18-hole Baltimore Golf Course around the hotel so the lovers of golf will definitely prefer it.
The iconic resort is also famous for its spa. The Biltmore spa enters a luxury hospitality consortium "Leading Spas of the World".
Other classic luxury options include:
St. Regis Bal Harbour Resort with its excellent amenities and flawless service;
Trump International Beach Resort with breathtaking views, where tropical charm is combined with flair of Trump property;
Acqualina Resort & Spa on the Beach – an amazing world-class resort with sophisticated hotel, stunning oceanfront spa, Roman waterfall, heated jet pool, Finnish saunas, crystal steam rooms etc. It is a recipient of 2014 AAA Five Diamond Award and 2013 Forbes Travel Guide Five Star Award.
Boutique hotels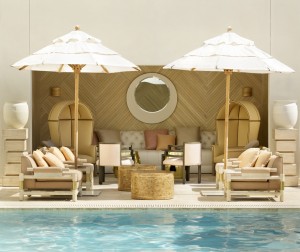 All these hotels are amazing, but what we lack most when we travel is a cozy, homely atmosphere available in five star boutique hotels such as the Tides South Beach built in art deco style. It is close to the Atlantic Ocean and provides fantastic ocean views. The design creates nostalgic mood. There is a flamingo park and tennis courts in the vicinity of the hotel. The guests can enjoy the noted restaurants and vibrant nightlife at the place.
Another boutique hotel you will like – Provident Luxury Suites on Fisher Island. Spacious residences in Mediterranean style showcase an elegant design. In addition to usual amenities, you can find full service marina accommodating boats and yachts there.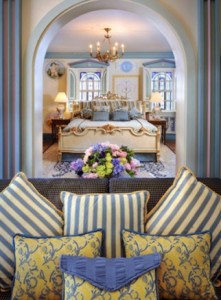 If you like opulent and elegant design, you can stay in the Villa by Barton G. This expensive property was the mansion of Gianni Versace. A luxury three-story building with an open-air courtyard in South Beach was purchased more than 20 years ago. After murder it was turned into a private invitation-only club with fee $50,000 and later into the event space and the hotel with ten rooms and eleven bathrooms. The pool in the hotel is lined with 24-carat gold.
Villa by Barton G features an incredible design in compliance with the lavish taste of its ex-owner. The rooms are extravagant and are decorated with Italian marble, pebble mosaic on the walls, Egyptian cotton linens and balconies at Ocean Drive. The guest of the hotel can even order the room that used to be the sleeping room of the famous designer. There is king-size bed and beautiful ornate shower there. Get sensory experience in the Mediterranean restaurant Il Sole that is located at villa. Try exquisite refined Italian dishes in it.
Dining experience and amusements
The cuisine is presented mainly be Latin dishes with Asian and French influences. As a result, we get a unique fusion style that makes Miami stand out. The hottest restaurant include Tongue and Cheek, upscale steakhouse Prime 112, the Dutch, Tropical Chinese, Tobacco Road, Joe's Stone Crabs, De Rodriguez Cuba, Hakkasan, Palme d'Or (French), Naoe (sushi), Zuma (Japanese), The Bazaar (modern Spanish) and many others.
As for the entertainment, you can decide to arrange South Beach getaway with lots of attractions. You can go to Virginia Key Beach or Haulover Beach instead if you came to Miami for beach rest.
Everglades National Park, which is a home for many endangered species, provides the opportunities for camping and canoeing.
Tourists also love Miami MetroZoo, where the animals are kept cageless, Miami Seaquarium presenting outdoor shows with whales, dolphins, turtles, sea lines and seals all the year round.
Explore the birds of the Jungle Islands or visit the Monkey Jungle Park, where visitors feed monkeys with treats sold there.
You can also take a guided tour along the Coral Castle, the Miami Children's Museum or Miami Museum of Science.