Best hotels and spas in Seychelles
Peace and privacy – are the things that people mainly expect when they go to the Seychelles. Many compare the Seychelles with a paradise. Nature is fabulous there and the hotel should be fantastic too. In this case, the rest will be perfect. Here is the list of great hotels and spas for all those who plan to spend vacation at the Seychelles.
If you want to have superb rest you should choose world class Maia Luxury Resort & Spa. It takes half an hour to get to the place from the capital city of Victoria.
There are 30 villas for guests among the palms, white sand and turquoise waters. Spend vacation in the Ocean Panoramic Villas and you'll remember stunning views for the rest of your life. One more place to enjoy the view is the infinity pool with poolside made of black lava stone. If you love active rest, do not skip scuba diving to see colored and fantastic sea life with kaleidoscope of corals.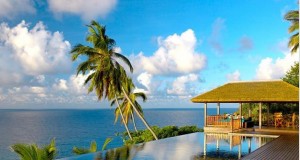 Lovers of beach rest should select Fregate Island Private provided with seven excellent beaches. One can also rent private area on the beach and enjoy seclusion. It is a great place for romantic couples who came here for intimacy. Villas surrounded with lush vegetation of the gardens is the best option in this case. There is Jacuzzi in every villa and private infinity pool.
The island is called so after the acrobating frigate birds. They are really spectacular so you should take binoculars to watch them. Relaxed luxury of the island is perfectly combined with isolated idyll so all feel comfortable here: tourists and local inhabitants of the island. This is also home of huge of Aldabra tortoises, turtles and numerous rare birds.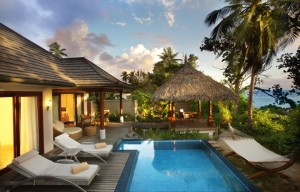 If you have adventurous spirit you can choose the island that used to be a shelter for pirates in the past. But those days are gone and all is different now. Now luxury Hilton Seychelles Labriz Resort & Spa, an incredibly beautiful resort, is located on Silhouette Island with breathtaking flora and fauna. You will find top class amenities in 111 stylish private villas. The guests who stay at the King Garden Villas get pleasure from spectacular mountain views. Those who want to enjoy beautiful sunsets at the Indian Ocean should choose the King Beachfront Villas. Five restaurants on Silhouette Island can deliver unique dining experiences.
You can also pamper yourself in the Silhouette Spa on stilts. This award-winning spa is one of the best on the island. Big choice of activities are also offered to those who prefer active rest: one can arrange adventure trip to the rain forest, explore Marine National Park and the Giant Tortoise Sanctuary with conservation breeding farm to get acquainted with bio-diversity of the place. There is also good diving center on the island.

If you are looking for exclusive vacation with luxury among the vibrant nature, Constance Lemuria is the place you need. Lemuria Luxury Hotel will surpass your expectations.
Elegant suites are waiting for you here. There are 88 junior suites and 8 senior suites with amenities to meet the demands of the choosiest travelers. One can also select one of 8 villas or accommodation in the exclusive Presidential Villa.
The design of villas and spacious suites is fantastic. Natural materials, such as wood, stone, granite, are applied to blend architectural design and nature. Try customized spa treatments, explore the best diving sites, take a golf-course – there is so much to enjoy here!