Top 10 designer engagement rings
If you are passionate about jewelry, get ready for something really impressive. Here is my selection of the most beautiful diamond rings. You will surely fall in love with one of these amazing rings. Though the price bites, it is really a torture not to yield to temptation!
1. Brilliant with Baguettes, Graff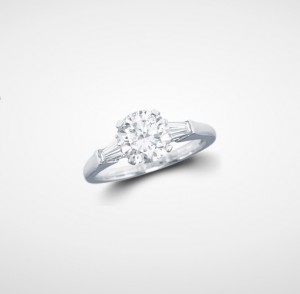 A remarkable Graff round brilliant diamond ring with baguette cut shoulders, set in Platinum.  It is hard to take your eyes away from such ring. The weight of the central flawless diamond is 2.08ct.  It is set within 2 baguette cut diamonds. How can woman say no to you when such ring is presented?
Price £39,750
2. Chopard Yellow and White Diamond White Gold Ring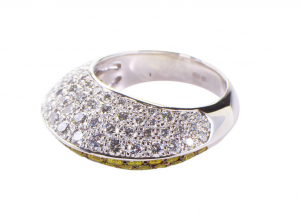 And the last Chopard ring in our selection is really extraordinary. The design involves white and yellow diamonds so if you are not sure which gem is the best you can have them all in one design! The ring is good for self-confident ladies who choose the best. The ring is made of 18 K white gold.
Price $16,500
3. Cartier d'Amour solitaire paved with diamonds 

Have a look at this elegant design that is worth applause. This charming ring is made of platinum and diamonds, which are placed beautifully in a circular shape. This enchanting ring will satisfy your desire. Central brilliant-cut diamond is from 1.00 to 1.10 ct.
Price $16,500
4. Rombi Eternelle, Buccellatti
Exquisite and refined work is seen in almost all items from Buccellatti but this piece  still can't be compared with others in its beauty. Three rows of round-cut diamonds were set into 18r white gold that includes rims of yellow detailing also made of 18k yellow gold. It is even hard to imagine that such refined openwork can be expressed in metal. It will look perfectly on you and will add sophistication to your image.
Price $15,500
5. Belle, Harry Winston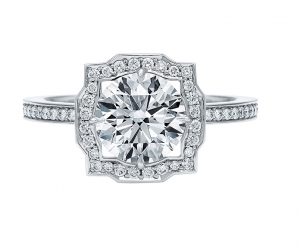 Round Brilliant Diamond Engagement Ring Belle, Harry Winston has a platinum setting and a round brilliant diamond – 2.01 carats, contributed by small diamonds with total weight 2.40 carats. The collection varies on the size of stones.
The price begins from $14,000 and can increase to $90,000 depending upon the weight of diamond.
6. Happy Diamonds Icons Ring,Chopard
Happy Diamonds Icons Ring can be a good gift to remember of loving hearts that are so close to each other and shine with happiness or little diamonds dancing inside heart-shaped cases. The design is unusual and attracts attention. The fantastic tête-à-tête ring is just one of the line called Happy Diamonds Icons. You can select the model made of 18-carat white gold and diamonds on the number of hearts and diamonds moving inside. The price varies correspondingly.
Price $12,000
7. Icône solitaire, Van Cleef & Arpels
Icône solitaire from Van Cleef & Arpels with diamonds all over looks incredible and can be a great start for the couple as it symbolizes purity and perfect love. It will open new chapters of your life so that you could enjoy its every moment.
Price $12,000
8. La Strada Ring, Chopard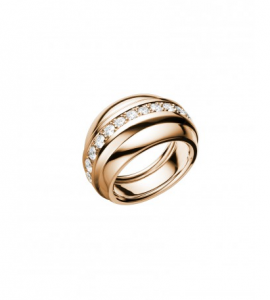 Regard a ring with a twist La Strada Ring that features 18-carat rose gold beautifully decorated with diamonds. The design reminds of chic women in classic film by Federico Fellini. It is simple and refined at the same time thanks to the curves that make the ring superb. The diamonds play the leading role but they additionally accentuate the curves as well.
Price $8,000
9. Olive Ring White Gold and Diamonds, Mikimoto
Olive branch always looked elegant and nice. Mikimoto used its design to create Olive Ring of white gold and diamonds. Nice combination of pearls and diamonds make the ring stunning and feminine as the leaves tenderly go around your finger. The pearls of Mikimoto were even prized for luster and rich color. When used with diamonds this effect is emphasized stronger .
Price $3,500
10. Diamond Line Ring, Tiffany T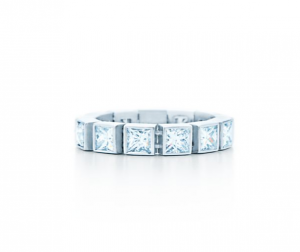 Princess-cut and rose-cut diamonds decorate the design of the Diamond Line Ring from Tiffany T. The ring is made of 18k white gold. There are is no extra detailing. The main focus is on eye-catching diamonds.With carat total weight 1.40 (princess cut diamonds) they are really worth such attention.
Price $9000