Top 3 Best Restaurants in Dubai
If you haven't checked yet my World Restaurant Guide, you can read the reviews of my Top 3 Restaurants in Dubai now.
Pierchic
One of the best romantic spots in Dubai. The view is stunning; blue waters of the Arabic Gulf, Burj Al Arab on one side and the legendary man made island the Palm on another. The restaurant is located on a pier at the Al Qasr Hotel and it has the reputation for being the best seafood restaurants in town. The atmosphere is very relaxed, but its smart casual at the same time, I would not recommend to wear shorts and sandals here. Grilled shrimps have plenty of flavour, yellowtail sahsimi is fresh and sliced to perfection, corn and crab risotto is simply delicious. The restaurant has many local awards and I can prove that it's a must do gastronomic stop in Dubai.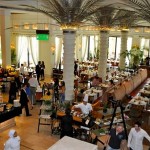 Al Qasr Brunch
Wow, this is The Brunch! I have never had a brunch like that before, not even in Las Vegas, New York or any other place on Earth. Tourist, locals and foreigners who work and live in Dubai flock to Al Qasr hotel on Friday early afternoon. You can see the line for miles. People come here religiously and they stay for hours, and who would want to leave early? Sip on Bloody Mary, sake, and champagne, splurge on hundreds of dishes of ethnic and delicious food. There are literally dozens and dozens of options among Indian curry, Arabic mezze, Mediterranean appetizers, sushi, vegetarian dishes, kebabs, lobsters and kobe hamburgers. You can find the whole world's menu under Al Qasr roof on Friday. Every time I come to Dubai, I make sure I stay on Friday night, it's definitely worth to experience this kind of indulgence once in a while.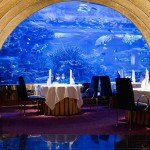 Al Mahara
Underwater palace in the most luxurious hotel in the world. Burj Al Arab is one of the main attractions in Dubai. So when you are in the United Arabs Emirates, this hotel is a must stop for a cocktail, photo shoot or a formal dinner. Hotel offers many cuisine options anything from local Arabic specialities to fancy seafood splurge. The luxury starts right at the door step of the hotel where you can see guests coming out of the Rolls Royce, and helicopters landing at the top. So, Al Mahara is a unique place by its nature, it is located in Burj Al Arab, and exceptional ambience is guaranteed. One thing to keep in mind, this hotel is over the top with everything, including décor, reputation and service, so it may come across as artificial and too much. Sometime, I think of it as Las Vegas in the middle of the Arabian desert. Al Mahara's interior is smart and contemporarily, the main sight at the restaurant is a giant aquarium filled with exotic fish. You will be offered squid ink bread and seaweed butter to nibble on before your main courses arrive. Imagine the imaginable: appetizers, fish, and seafood, anything you desire served with great presentation and attention to detail. Main lobster comes with original and light sauce made with a cognac, sea bass is prepared in sea salt crust, and everything you order grilled, poached or fried is tasty, exquisite and mouth-watering. Finish the evening with original tiramisu. The restaurant is overpriced; but who said luxury comes cheap? At the end of the day Burj Al Arab has to keep its reputation for being a seven star hotel.