Most luxurious world's hotel, Burj Al Arab is a symbol of Dubai
Dubai lies at the crossroads of Asia, Africa and Europe connecting three continents, 136 nations and over 3 billion people. Millions of tourists come here from different countries to see this fantastic place. Some tourists are ready to spend thousands of dollars on a place to sleep so they select the most luxurious hotel of the world, which is located in Dubai.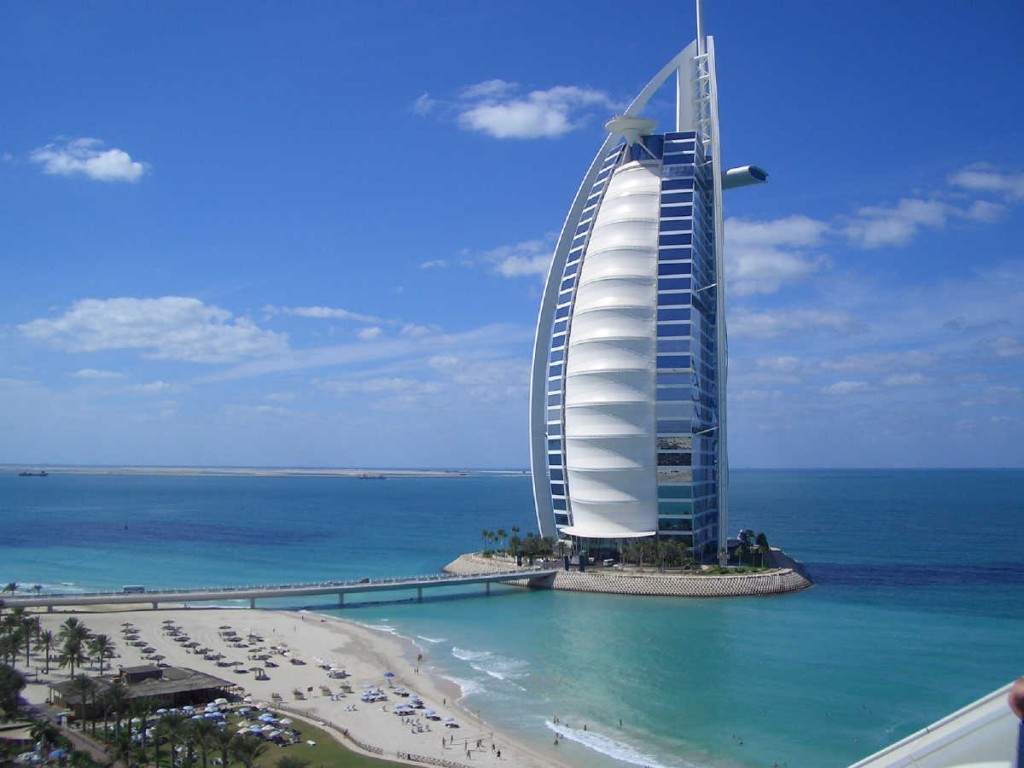 This is a 7-star hotel Burj Al Arab – a unique construction that became a symbol of Dubai. Its impressive sailed shape is recognized throughout the world. A marvelous structure is 321 metres high. In this way, it is the 4th tallest hotel in the world. Burj Al Arab is the only seventh star hotel with exceptional service. It was constructed in 1999 on the artificial island. A curved bridge connects the building with the mainland. The cost of this stunning architectural masterpiece is 650 million dollars. The structure is unique and its 39% of total height belongs to the space that can't be occupied. The atrium in the building is 180 metres tall.
There are 28 floors in the hotel that accommodates 202 rooms with breathtaking design. Actually, the suites are double story and vary from 169 to 780 square metres. The rooms are decorated in opulent style with eastern and western elements that are combined in décor (mosaic patterns, white columns, marble and gold). It is hard to describe all this opulence in words. There is a wide range of luxury facilities you can imagine in the hotel.
Relax in Talise Spa that delivers carefully crafted experience. Pamper yourself using exclusively developed spa procedures with use of the best products available here.
There are a lot of restaurants and cafes in the hotel where the most exquisite dishes and rare wines are served. The service is 7-star even in the buffet. The butlers escort the visitors to their suites and can even unpack the bags if necessary. If you need a car with a chauffeur, Rolls Royce is at your disposal. Helicopter transfer can be ordered.
Royal Two Bedroom Suite goes beyond the expectations of the most demanding guest. You will appreciate its flawless reserved style with emphasis on the extravagant elements of the interior. Personal elevator takes to the top floor where the Royal Suite is located.
Depending on the mood, you can choose to have secluded rest looking at the spectacular views of the Persian Gulf or invite guests to dinner to have good time together. There is a convenient study in the suite at your disposal if you need to work during the trip. Here you will find out what luxury sleep is. There is a luxurious rotating bed in the enormous bedroom where you can relax after your busy day.
Other areas of the suite include a private dining area, Arabic style lounge, a private cinema and a library. The gold and marble staircase will take you to master bedroom with a rotating royal bed we have mentioned already. There is one more bedroom in the suite and each one is supplied with adjoining bathroom marvelously decorated with marble. Here is a spa bath and a walk-in shower.
The cost of royal suite is only $24 000 per night. Visitors point out just one shortage of staying in Burj Al Arab: it is so superb that you do not want to leave the place, while there are so many interesting things to see in Dubai. If you want to have a memorable vacation with super luxury, there is no place better than this.