Best Shopping Malls of Dubai
You can buy whatever you wish in Dubai shopping malls. Huge shopping malls resemble shopping resorts so Dubai is a popular destination for all people who come for shopping and leisure in Dubai. There is much to do at shopping malls that include entertainment centers with rides and games for kids, cinemas with comfortable chairs. Indoor ski-slope Ski-Dubai is one of the most impressive features of shopping malls. Malls are constructed not to provide the products only but deliver experience. Every mall has a particular feature to surprise the customers, which can be a skating rink, for instance. Each trading centre has its charm.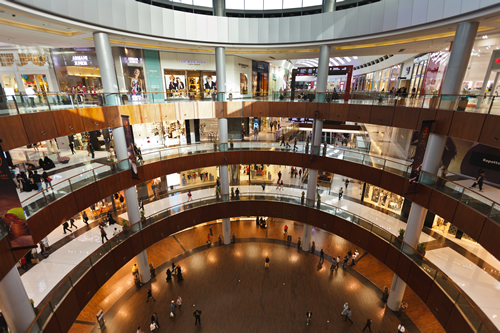 One of the biggest malls is the Dubai Mall. Dubai Mall includes over 1,200 stores. Almost any brand can be found in it. It takes several days just to see the mall completely. There are many restaurants and cafes in the Dubai Mall. There are 95 elevators and 150 escalators in the Dubai Mall. They help to make shopping more convenient. But it is not all about shopping. It was made to provide social and lifestyle experience. It should be noted that this task is perfectly performed. More than 100 million people visit the place every year and many of them come here just to entertain themselves. One can visit Underwater Zoo, Dubai Aquarium, a small souk, an Ice Rink, look at the Dubai Fountains and etc.
Dubai Fountains is a mesmerizing spectacle with lights, water jets that rise 5 hundred feet into the air. The serpentine coil of the fountain is over 900 feet. Its length is 275 metres. Lights and color projectors make this spectacle even more fantastic. The world-class attractions you can find in the mall made the shopping experience revolutionary.
Emirates Mall is another sample of the most popular malls in Dubai. Shopping is just the beginning – says the slogan of the mall. Apart from it, customers can dine out, entertain, apply to the numerous services, participate in numerous events and stay at the hotels directly connected to the mall: Sheraton Dubai Mall of the Emirates Hotel attached to the Dubai Mall from the East and Kempinsky Hotel on the West side. It is very convenient for vacationers and business travelers to stay here because highly developed infrastructure of the mall along with a wide array of amenities make the place extraordinary. In addition, the mall is linked to the metro as well.
Entertainment options abound the Mall of the Emirates. It includes Dubai Community Theatre & Art Centre, a non-profit centre for the artistic community in Dubai. Visit indoor family entertainment centre Magic Planet that features the most popular rides and games. If you want to cool down a bit, an indoor snow resort Ski Dubai welcomes you. This is the only ski resort in the Middle East. You can enjoy winter at any season here as you ski, toboggan and just play with snow in winter setting of snow resort Ski Dubai.
There are 560 international brands, over 90 restaurants and cafes in the Emirates Mall. 80 designers' brands can be found here (Prada, Christian Louboutin and etc.).
It is rather interesting to visit the Battuta Mall that is a themed mall. It is named after the Arabic explorer who traveled all over the world and 6 courts of the mall reproduce the themes of those regions: China, India, Egypt, Persia, Tunisia, and Andalusia. Diera City Centre is one of the oldest malls and also worth a visit.