Top 5 Gastronomic Restaurants in the World
Elite Club would like to dedicate this section to ground-breaking success of gastronomic extravaganza and experiment of El Bulli. Spanish chef-innovator Ferran Adrià found one of the most famous talked about restaurants in the world. The restaurant was closed in 2012 in order to create a new format for experimental cooking academy and food preparation study. We are looking forward to hear the announcement about the opening!
NEW YORK
PER SE
Expansive gastronomic restaurant with the view of the Central Park. The founder Thomas Keller believes in the balance between best ingredients and innovative cooking. His philosophy is about the journey to explore hidden pleasures of the creative meal. Per Se is not just the gastronomic venue, it's also a place for crème de la crème to network, close deals and celebrate anniversaries. If you have a new evening gown or a set of diamond earrings that you didn't have a chance to show off, this is the place to sparkle and shine. Per Se is a romantic spot; it's all about nice posture, whispering, well-mannered behavior, and smart attire. Tasting menu will offer an adventure to a classic gastronomic experience; you can try all specials in nine servings. Fine china, perfect service, artistic presentation and expansive wine list are all part of Thomas Keller's approach to fine dining. Most popular dishes on the menu are oysters and pearls, duck foie gras, pigeon, and langoustines wrapped in bacon. The menu is always changing, according to Per Se, the menu is about "exciting your mind and pique your curiosity".
Bill: $$$$$
Service: *****
Address: 10 Columbus Cir, New York, NY
Tel. +1 212 823 9335
PARIS
LA TOUR D'ARGENT
La Tour d'Argent has the best address in Paris. This is the place where reservation is essential, jacket and tie are required, glamorous dress and good appetite are mandatory. For decades, the restaurant was owned by Claude Terrail, who became the most famous restaurateur in Europe. He died in 2006, and today management is handled by his son, André. It's hard to describe La Tour d'Argent in a few words as it's a historical site, museum and a gourmet paradise for diners. I will start with location as it is a million dollar view, overlooking the Seine and Notre-Dame. The restaurant is famous for serving duck. La Tour d'Argent has been preparing duck since 1850's and every duck comes with a numbered certificate. The first bird was served to Edward VII in 1890, and now the number is getting closer to two million! The most celebrated dish, canard au sang (duck in a blood-based sauce) is tenderly juicy and well balance with sauce. The menu is devoted to duck, but there are plenty of other choices on the menu. The other extraordinary experience is the wine list. Taste a rare vintage Burgundy from the famous cellars, which survived World War II. Splurge, fall in love, you are in Paris!
Bill: $$$$$
Service: *****
Address: 15, quai Tournelle, M° Pont-Marie, Paris
Tel. + 33 1 43 54 23 31
MOSCOW
PUSHKIN
Magnificent, graceful and truly 19th century Russia. To describe Pushkin you have to know a little bit of history about Peter the Great and his reforms to end country's isolation and open the "Window to the West". At the end of 18th century French influence became predominant in the kitchen, fashion and lifestyle among Russian aristocracy. Therefore, Puskin restaurant symbolizes a very special period in Russian history, where Russian traditions were well mixed with Parisian charm and gastronomic approach to cooking.
Nicely and properly decorated "Apteka hall" (Drugstore) and antique "Biblioteka" (Library) with telescopes and globes promotes the aura of Pushkin times. The restaurant provides separate VIP room, "Pogrebok" (Cellar) and "Entresol" with a balcony on the third floor. Elegant and formal atmosphere goes well with harp sounds, candlelight and sophisticated Russian cuisine influenced by French chef. Must try are Russian delicacies such as mini pies with cabbage, lamb and mushrooms; sauerkraut, pickles, Olivier salad and Borsh soup. Other traditional and exquisite dishes are pelmeny (dumplings), Kiev cutlet and fried sturgeon. Among those who love Russian cuisine are foreign delegations, international businessmen and celebrities from around the globe. People consider Pushkin to be one of the few restaurants in Moscow that balances invariability, excellent quality and first class service.
Bill: $$$$
Service: *****
Address: 26a Tverskoy bulvar, Metro station: Pushkinskaya
Tel 7 495 739 0033/629 94 11
LONDON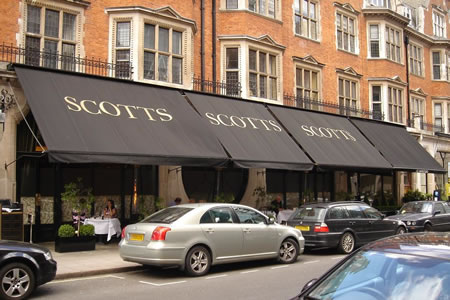 SCOTT'S
Scott's is by far the most famous and popular seafood restaurant in London. This prestigious establishment is situated in the quiet elegance of Mount Street. It is renowned for fresh and innovative seafood dishes and has a romantic cocktail bar on the lower floor. The restaurant has art deco glamour, pleasant calm colours in décor, posh and sophisticated ambience. Fish is never boring at Scott's, amazing combinations of ingredients make a statement such as fillet of cod with pardon peppers with chorizo, slip soles with cockles and fillet of organic seas trout with crushed Jersey royals and surf clams. Meat eaters can enjoy a wild duck, savoy cabbage & chestnuts, while desserts leap from treacle tart to popcorn ice cream. Prices are high, but this is what you would expect at a world-class restaurant in one of the most expansive cities in the world. I have to highlight that Chef Tim Hughes is responsible for Caprice Holdings nine sites, most notably Scott's and The Ivy, also including Aldwych and J Sheekey. With Scott's London proves to have world's best high end restaurants.
Bill: $$$$
Service: *****
Address: 20 Mount Street, Mayfair, London
Tel. + 44 207 629 5248
SYDNEY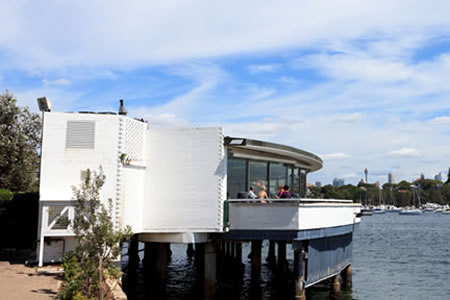 CATALINA
Catalina is one of Australia's great restaurant destinations situated on a landmark Rose Bay site on Sydney Harbour's eastern foreshore. Michael and Judy McMahon opened Catalina in 1994 with a simple goal: to be Sydney's favourite place to eat by the water. Rose Bay was the site of Australia's first international airport. From 1938, sea planes, including the famous 'сatalinas' ruled the skies. In 1957, local identity Jim Bendroit built a first restaurant and nightclub over the water called Caprice which has become the hottest spot in town. The building was renovated by McMahons and today, the diners have a panoramic view of Sydney Harbour at water-level.
Paul McMahon, Executive Chef of this superb dining retreat has created a contemporary Australian menu with French, Spanish and Italian influences. With a wide open welcoming of the harbour, balmy balcony, great views, candlelit tables, and fireplace, Catalina is an ideal restaurant for all seasons. Sourdough loaves are baked on the premises twice a day; the smoked salmon is smoked, cured and sliced in-house; and the best Sydney Rock Oysters are sourced daily from up and down the coast, and shucked to order. Chef only uses premium meats such as the dry aged Angus sirloin and Kurobuta pork. Menu favourites include Freshly Shucked Sydney Rock Oysters, Roasted snapper fillet with potato and garlic mash; lemon caper butter, and the Double roasted de-boned duck with a white port and pear pure; roasted parsnip. Catalina has one of the best wine lists in the country. Michael McMahon and Head Sommelier Simon Curkovic, (Winner 2008 Gourmet Traveller Sommelier of the Year) have developed a fine Australian and Imported list of over 600 wines. It's simply 'a must visit' restaurant on the list if things to do when you are in Australia. It would be a shame to miss the best restaurant experience in the country.
Bill: $$$$
Service: *****
Address: Lyne Park Rose Bay, Sydney
Tel. + 61 2 9371 0555
For more info please visit Alina's World Restaurant Guide